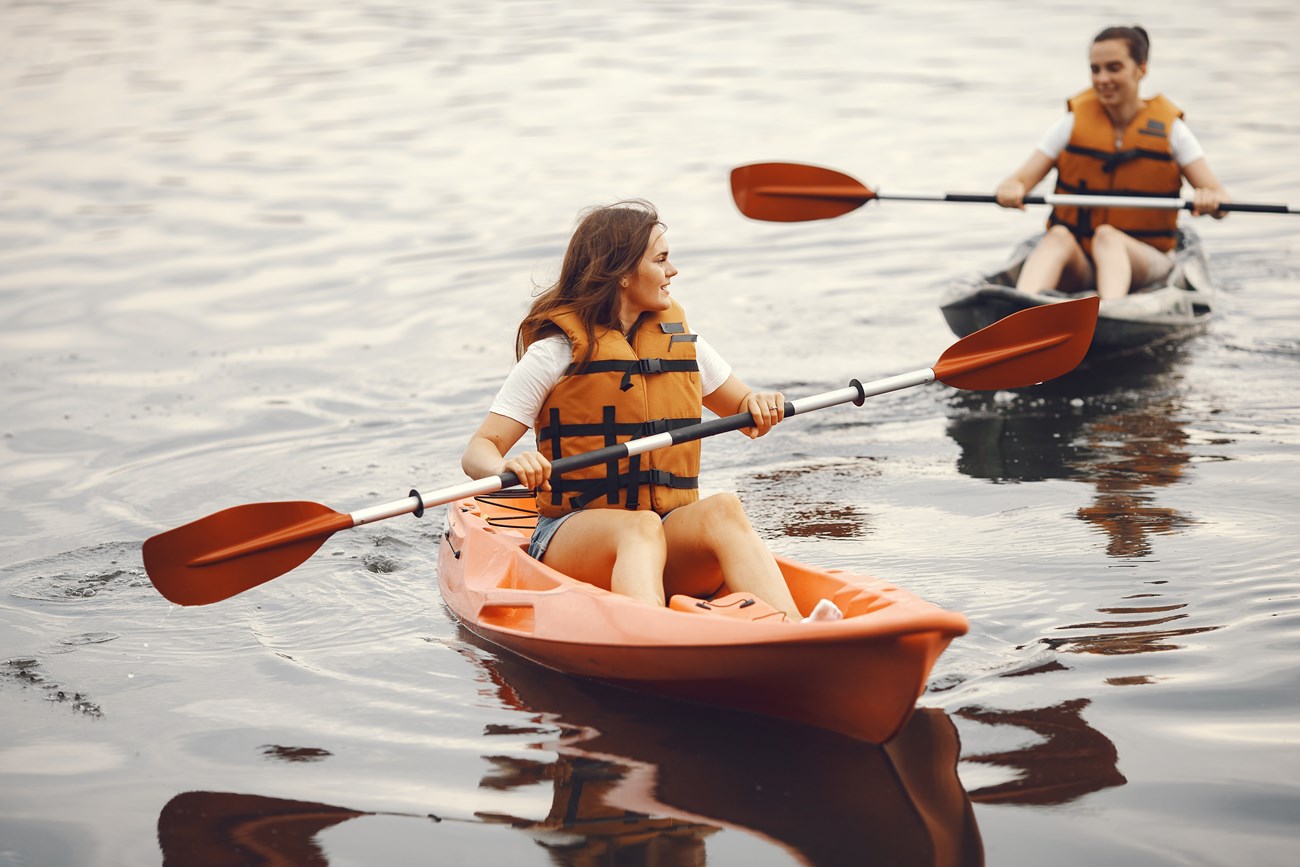 What is your favorite part of visiting Lake Roosevelt National Recreation Area? Picnics? Hiking? Roasting marshmallows over the campfire in the evening? One of our favorite things is paddling around the lake!
Whether you kayak, canoe, paddleboard, rowboat, or just swim by the shore, keeping cool in the summer is best done is in the water. As a Junior Ranger, one of the most important things you can do is learn water safety and help teach your friends and family so everyone can stay safe!
Activity #1: Staying Afloat
A personal floatation device (PFD) is a 100% requirement for anyone using watercraft. What is watercraft? Anything you can float or paddle on the lake, such as a kayak, paddleboard, large inflatables, a canoe, motorboat, sailboat... you get the picture.
Even good swimmers need a PFD. Why? Imagine you are far from shore and your kayak tips or you fall out of a powerboat. A PFD works to keep you floating until help arrives so you don't have to exhaust yourself trying to swim.
Practice putting on your PFD correctly. Tighten the straps, zip the zipper, buckle the buckles, check that it fits you. Have someone pull up on the shoulders. If it moves up past your nose - it's too loose! Try again.
Buddy Up!! Don't swim alone! With a friend there is always someone who can get help if needed. Also, do a buddy check and find your friend when playing near the shore. Buddy's are just as important as PFDs.
-- Name 3 things that are NOT safe to use as PFDs.
Activity #2: Double Trouble
What do you do if you see someone who is in trouble in the water? Maybe they're splashing, calling out for help, or maybe they look like they're having problems keeping their head above water and forgot their PFD. What now?
Reach out with something to help them.
Throw something that floats.
Row, find an adult, go! Get help.
Don't Go in the water. Stay out, stay safe.
Instead, run or yell for help or dial 911!
-- Create a radio announcement, a video spot, a brochure, or a play to help people understand what to do in case they see someone in trouble in the water. Use the five steps listed above in your project.
Well done, Junior Ranger!