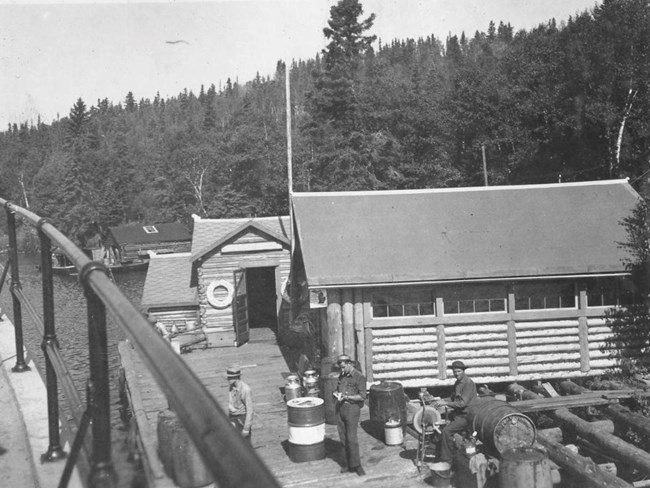 History
Although Rock Harbor, Belle Isle, Minong Lodge, and Singer's Island House resort on Washington Island were the main resorts which competed for Isle Royale's tourist trade, the tradition of fishermen offering lodging services continued into the 1930s. In the 1920s - 1930s, Chippewa Harbor fisherman Holger Johnson and his wife Lucy ran a resort called Johnson's Resort and Trading Post.
Johnson's accommodations were very rustic, and all the seven structures were log cabins with one, two, or three rooms, each with a porch that overlooked the Chippewa Harbor. Rates ranged from $4 to $6 a day for meals and lodging. Holger and his wife offered moose watching tours, fishing and hiking trips, and ran a dockside trading post where visitors could buy polished greenstones and "Indian" birch bark souvenirs made by the Johnson family (after being taught the craft by a Grand Portage Ojibwa woman).
In the 1930s during the slow fishing season of July and August, Holger's half brothers, Milford and Arnold Johnson, offered a boat rental and guide service for Rock Harbor Lodge guests. Other fishermen offered services under this arrangement, too, and also sold fish to the lodges.