Whether you know them as Johnny Cakes or Hoe Cakes, it seems as if everyone had a favorite recipe for these pan-fried corn cakes – General Washington even served them at Mount Vernon. Where do the curious names come from? Johnny Cake has as many origins as spellings, it seems. From the slurred, accented adaptation of "journey cakes" to the same of the phrase "Shawnee cakes" to the potential meaning of the American Indian word "janiken" as corn cake, each could have an equal spot at the head of the table for the naming of this tasty 18
th
century breakfast staple. The name hoe cakes seems to be more straightforward. The term hoe is an old term for a griddle, so substituting one word for another, you get griddle cakes, and a perfect description for just what they are.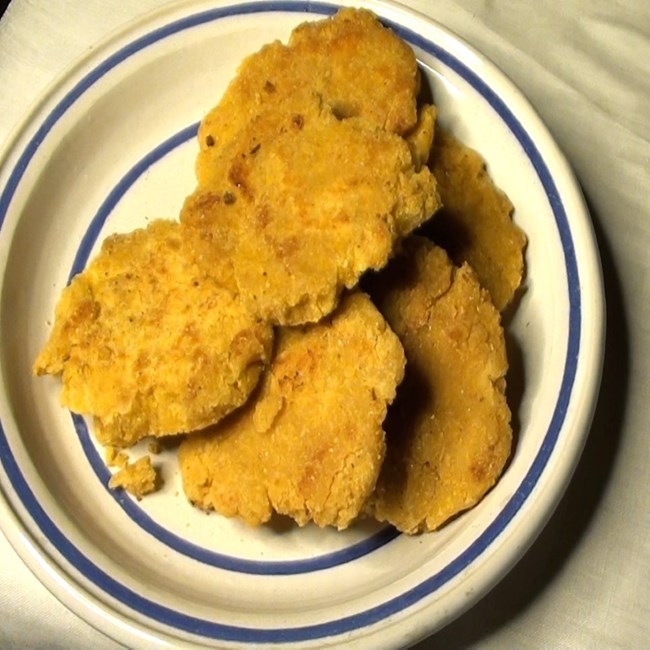 RECIPE:
2 cups milk
3 cups cornmeal
½ cup flour
Salt (if desired)
Mix all ingredients in medium bowl; mixture should resemble pancake consistency. Fry in well-oiled frying pan or on hot, greased griddle until firm in the center. Enjoy them plain or with butter, honey, or syrup.
Transcript
*violin music throughout*
Visit our keyboard shortcuts docs for details
Duration:

1 minute, 9 seconds
Whether you know them as Johnny Cakes or Hoe Cakes, it seems as if everyone had a favorite recipe for these pan-fried corn cakes – General Washington even served them at Mount Vernon. Where do the curious names come from?