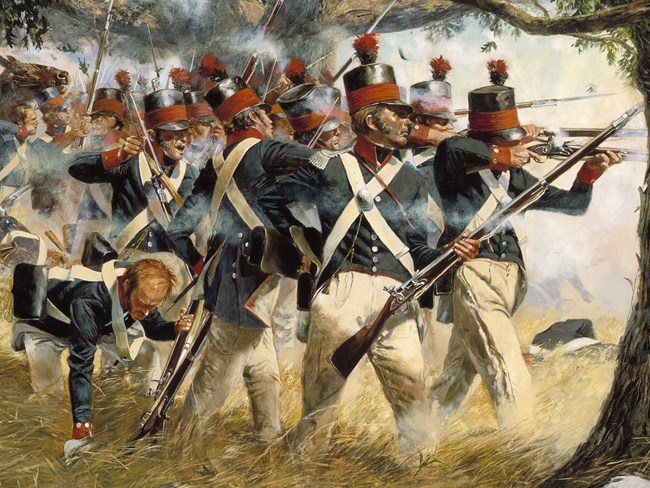 Recipient: NeighborSpace of Baltimore County, Inc.
Award Amount
: $110,454.00
Thousands of men of the Maryland State Militia stood in ranks beside the North Point Road as the British Army marched towards them on the afternoon of September 12, 1814. A month before, the British had burned the US Capital after decisively defeating the Americans at Bladensburg. Confident and led by a General who had served under Sir Arthur Wellesley in Europe, the British intended the same fiery fate for Baltimore, American's third largest city at the time. Although Baltimore was strongly protected by Fort McHenry and fortifications on Hampstead Hill, American Major General Samuel Smith saw an opportunity to engage the enemy near North Point before they reached the city. It was from this position that the citizen soldiers that made up the militia exchanged volley after volley with the British. However, after hours of standing firm, the Americans were forced to withdraw back to the city's defenses.
Through a Preservation Planning Grant from the
American Battlefield Protection Program
, NeighborSpace will share the prominent role of the Battle of North Point in defending Baltimore by performing historic research and creating an interpretive trail. NeighborSpace argues that the site's history is "a significant source of pride and community cohesion" and the success of the trail would "support tourism while serving as an important recreational amenity and educational resource for four adjacent public schools."
Preservation Planning Grants
are the American Battlefield Protection Program's broadest and most inclusive grant program, promoting the stewardship of battlefields and sites of armed conflict on American soil. In addition, the program administers three other grants: Battlefield Land Acquisition Grants, the newly authorized Battlefield Restoration and Battlefield Interpretation grant programs. This financial assistance generates community-driven stewardship of historic resources at the state, tribal and local levels.
Get Your Project Funded
Check out the American Battlefield Protection Program's website for more information about various grant offerings and eligibility.
Learn more!