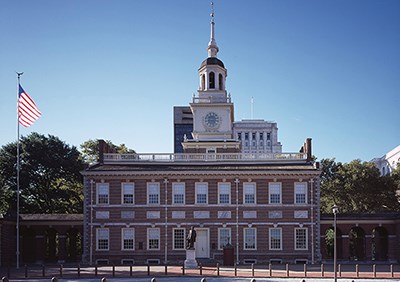 For Americans, indeed for people around the world, there is no more potent symbol of individual freedom than Independence Hall. This World Heritage Site is located in Philadelphia, Pennsylvania, where the dream of a free country of independent citizens became fact.

This place witnessed events that gave birth to a system of self governance that remains a model for many around the world. While the Declaration of Independence and the Constitution of the United States were devised to serve national ends, they continue to endure and give voice to universal principles that eloquently express mankind's aspirations for justice and freedom. The principles expressed in these documents have enlightened and inspired political thinkers in many parts of the world for over two centuries.

Independence Hall signifies many things to many people. The events that took place here two centuries ago, and the buildings and objects associated with them, are what attract visitors from every state in the Union and almost every country around the globe. This place reminds all who visit that the formation of this nation was the work of men, imperfect like themselves, who transcended their faults and foibles to create an enduring democracy, the oldest in the world and a model for free men everywhere.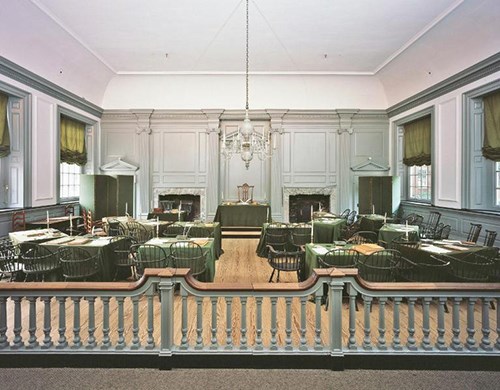 Independence Hall was designed by Andrew Hamilton and master building Edmund Woolley to house the colonial Assembly of the Commonwealth of Pennsylvania. Finished in 1753, the building is a modest brick structure with a steeple that was intended to hold a 2,080lb bell. The Liberty Bell, as it is now called, however, has cracked twice and stands silently on the ground in a special shelter. The bell hanging in the tower today was presented to the City of Philadelphia in honor of America's Centennial. The building has undergone many restorations, notably by architect John Haviland in 1830, and by a committee from the National Park Service in 1950 that worked to return the building to its 1776 appearance. Independence Hall is not designated a World Heritage Site for its architectural design but for the documents of fundamental importance to American history drafted and debated within its walls, , which formed the democracy of the United States and have influenced lawmakers and politicians around the world.

Independence Hall is part of Independence National Historical Park, in downtown Philadelphia. The park interprets the events and lives of the diverse Philadelphia population during the years when the city was the capital of the United States, from 1790 to 1800. A section of the park, where Benjamin Franklin's home once stood, is dedicated to teaching about his life and accomplishments. About 20 buildings -- historic, reconstructed and modern -- are open to the public. Places to visit also include Congress Hall, where the Bill of Rights was adopted and John Adams was inaugurated the nation's second president in a peaceful transfer of power, and the park's Visitor Center.

Independence Hall is a World Heritage Site and unit of the National Park System located at 520 Chestnut St., Philadelphia, PA. Click here for the National Register of Historic Places registration file: text and photos.

Independence National Historical Park Page: https://www.nps.gov/inde/index.htm