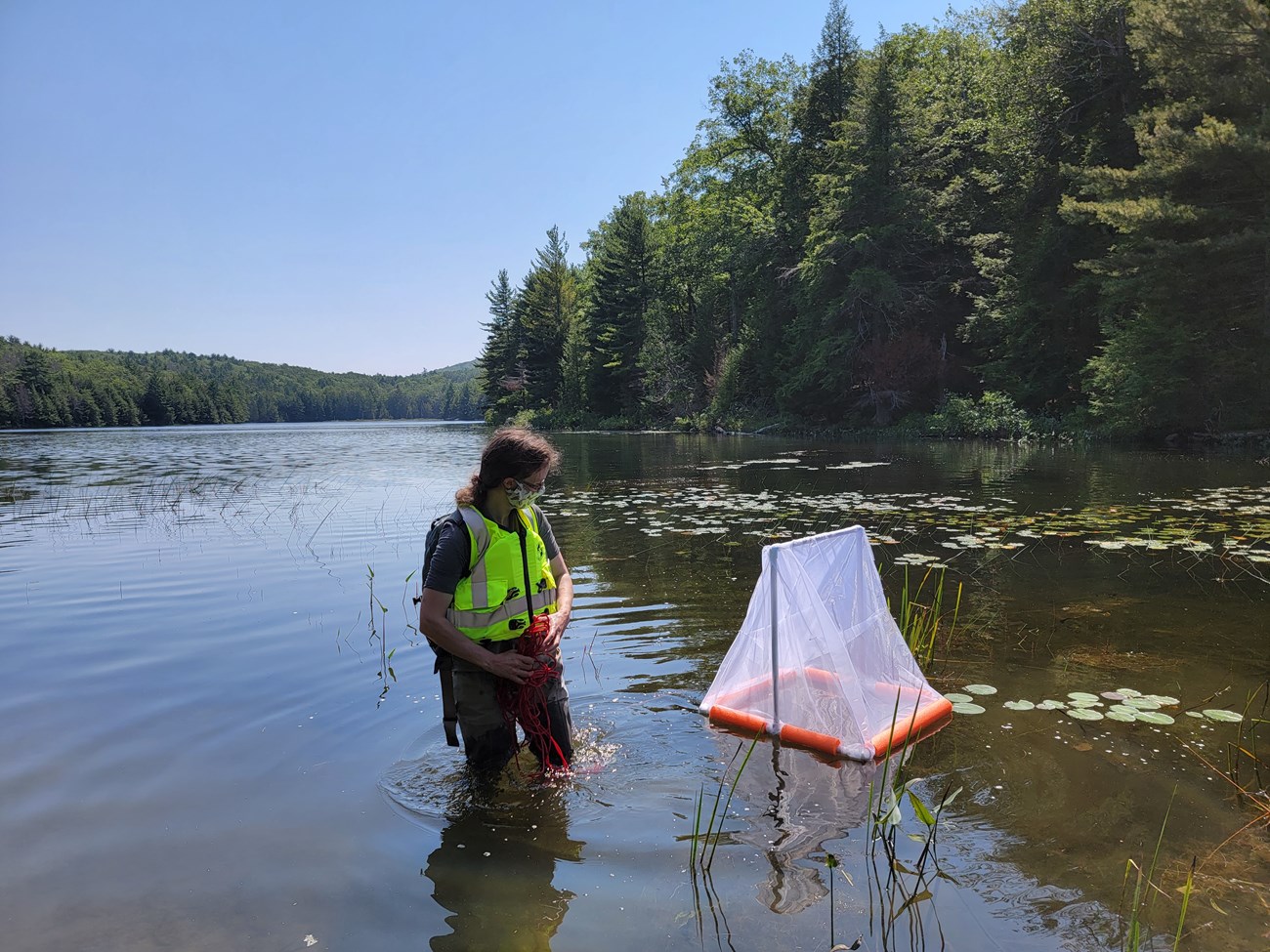 Acadia's lakes and streams are home to 14 native and 9 introduced fish species. Fish in many of Acadia National Park's lakes and streams have elevated concentrations of toxic mercury.

Building on extensive studies of mercury in Acadia, Christina Murphy, Assistant Unit Leader of the USGS Maine Cooperative Fish and Wildlife Research Unit at the University of Maine and 2021 Second Century Stewardship Fellow, is studying how introduced fish affect lake food webs, which can have ripple effects through the ecosystem. For example, an introduced fish that eats swimming insects can force native fish to switch to eating bugs from the bottom of the lake, leaving fewer bugs to hatch and be available for spiders that hunt this prey along the water's edge. As the spiders shift their food source, they may consume more or less mercury, which birds take up when they eat the spiders.

In June 2022, working in partnership with park staff and Maine Department of Inland Fisheries & Wildlife, Murphy and UMaine graduate student Daison Weedop collected aquatic insect larvae and fish from five ponds (Aunt Betty Pond, Eagle Lake, Jordan Pond, Lake Wood, and Long Pond). These lakes were studied previously as part of the Dragonfly Mercury Project, and have available historical data on fish populations.

Murphy is collaborating with Allyson Jackson of Purchase College, SUNY, also a Second Century Stewardship Fellow. With Murphy focused on the fish, Jackson is filling in the bird part of the food web "map." Jackson and Purchase College students Kristen Pareti, Anjelina King, and Sam DeTurris joined Murphy and Weedop for the two weeks of field work in June. They set up mist nets to (briefly) trap birds. After taking small samples of blood and feathers for stable isotope and mercury analyses, they released the birds back into the lakeside forest. They also collected insects from the water and land around each lake using traps, sweep-nets, and mist-nets.

Over the two weeks of field work, including what would turn out to be the rainiest days of the whole season, the team collected more than 400 samples to reconstruct the food webs of each lake and the surrounding forest.

Jackson will analyze a subset of the samples for mercury, to understand how mercury pollution might be affecting birds and insects, and add their data to Murphy's information on food web dynamics in each lake. Combined, the multiple sources of data will show how the food web varies in lakes with different populations of native and introduced fish and how these relationships inform terrestrial and aquatic linkages, including cycling of contaminants like mercury.