Between 1920 and 1927, Yellowstone National Park Superintendent Horace M. Albright hired nine women as park rangers. Some years two or three women rangers worked at various locations in the park. Albright sought out many of these women himself, offering jobs to some seemingly on the spur of the moment. Impressed by their intelligence, education, and characters, he reported that the women were "uniformly satisfactory" (no pun intended, we're sure!).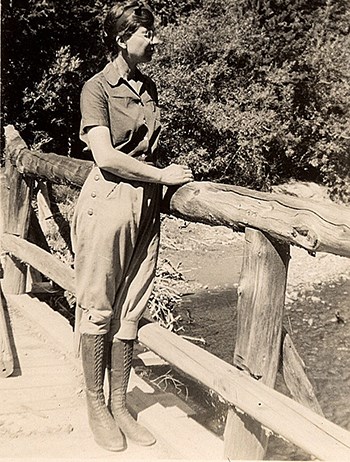 Independent Spirits
As the 19th Amendment to the US Constitution passed on August 26, 1920, and the right to vote could no longer be denied on the basis of sex, Isabel Bassett Wasson, 23, was more than midway through her summer season at Yellowstone National Park. Often credited as the first women ranger-naturalist of the NPS, her title was park ranger.

Born Isabel Deming Bassett in Brooklyn, New York in January 1897, she earned a BA at Wellesley College and an MA from Columbia University. She taught at Wellesley College in 1918 and 1919, and attended the University of Chicago during those summers.

Albright offered her a job in 1919 after hearing her talk to her tour group about the park's natural features. In a February 28, 1920, memo requesting her appointment as a park ranger, Albright wrote, "Last summer she was in Yellowstone Park as a tourist and lectured to the Brooklyn Eagle party on the physiographic features of the park, particularly the geysers and hot springs. I was amazed by the knowledge of the park that she displayed, but I was even more surprised to find that she has a most remarkable faculty of explaining geologic phenomena in popular language. She is a splendid public speaker and has the ability to hold a large audience while discussing scientific problems."

Later writers often described her duties as staffing the information desk and giving lectures on the park's geology. However, Albright wrote, "My idea is to have Miss Bassett act as a ranger in guiding people about the geyser formations while performing duties relating to the protection of these formations. In the evenings it is expected that she will lecture to the traveling public. She will also perform service in getting specimens for the museum of the park and in getting data for our information bulletins." Wasson herself later noted, "It was a matter of new work under an old name. I didn't 'range'. I talked."

Albright proposed to Director Stephen T. Mather that she be given a salary of $100 per month, plus quarters and return travel expenses from New York to the park. He noted, "In view of the fact that Miss Bassett's expenses will necessarily be heavier due to the fact that she will not be able to live in ranger stations in the park, I have recommended that the park funds bear her traveling expenses to and from the park. Another reason for this is that she will lecture in the evenings and perform other service in the way of writing and planning museum exhibits, etc., which the other members of the ranger force would not be required to do." In his correspondence with her, Albright explained the final offer of $100 per month and travel expenses noting, "This is the best arrangement that the Director of the National Park Service feels that he can approve considering the fact that all the other rangers are paid $100 per month and are required to pay their own expenses to and from the park."

The Department of Interior first issued her a park ranger appointment on March 3, 1920. They reissued the appointment again on March 8 as she would marry Theron R. Wasson on June 11, before arriving at the park. Wasson entered on duty July 1. Her appoinment was cancelled on September 15 because her "services [were] no longer required."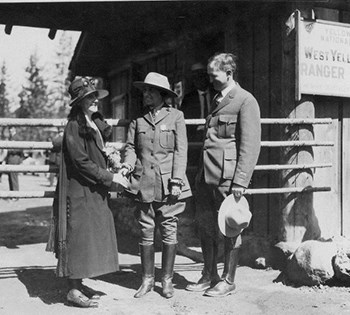 Reminiscing about her in 1978, Albright noted that he "never saw anybody, in the years [he] worked there, work as hard as she did." He went on to say that "she was very conscientious, very earnest and a very good speaker. And I'd like to have had her on there permanently."
Although Albright wanted Wasson to return in 1921, she declined due to pregnancy, which likely makes her one of the first (but hardly the last) employees to have to choose between family and an NPS career. Lack of funding prevented her return in 1922, and she went on to other careers, becoming one of the world's first petroleum engineers and an educator.

Ranger Mary A. Rolfe replaced Wasson in the summer of 1921. Her single season was short, beginning June 13 and lasting only about 10 weeks. Although Rolfe was 40 years old at the time, Albright described her in a 1921 letter to Wasson as "a fine enthusiastic girl, who tried very hard to please." Although Rolfe was an experienced school teacher, without Wasson's training in geology she "had some difficulty presenting her subject."

Ranger Frieda B. Nelson, 31, began her first three-month appointment in June 1925, after a 1924 visit to the park inspired her to apply to the ranger service. In the first of her two seasons, the press described her as the "only woman in the park ranger service" that year. She worked in the information office, patrolled campgrounds on horseback, and performed clerical duties in the chief ranger's office. She was also the special aide to Wyoming Governor Nellie T. Ross during the park's 1925 annual opening ceremony.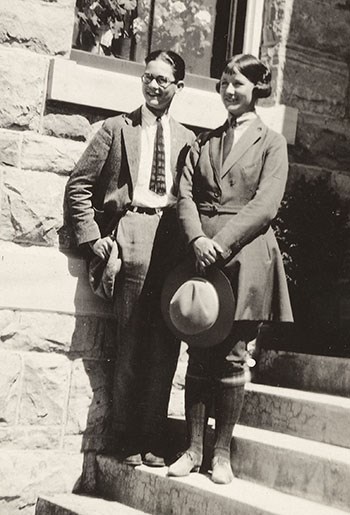 All in The Family
Although women like Wasson, Rolfe, and Nelson followed their own paths to jobs at Yellowstone, many of the early women rangers had personal histories and family connections to the park that made working there a natural fit.
Ranger Marguerite Lindsley, 19, was born at Mammoth Hot Springs and grew up in the park. She began the first of three seasons as a temporary ranger in 1921. She started the day after Rolfe (and a year after Wasson), but newspapers at the time described her as "the first women ever to be named as ranger in Yellowstone National Park."
Lindsley's seasons ran from June through September each year. She didn't work for the NPS during the summers of 1924 and 1925, working instead for her father (Yellowstone's postmaster) and serving as a licensed guide in the park. In December 1925 she became the first permanent woman park ranger in Yellowstone and the second in the NPS (see The "New" First Permanent Woman Ranger). Her salary in that position started at $1,680 per year, less $180 for park housing.

Albright noted that he "only had one experience with a girl ranger that caused trouble" and that was related to Lindsley. As a permanent ranger in 1928, she had "tamed" a large gopher snake and brought it into the information office with her, much to the horror of four visitors who came into the building. In response, they sent "a 200-word telegram to the Secretary of the Interior about the way Yellowstone was being run…" This was the only incident that led Albright to "talk strenuously or seriously with [a] girl ranger."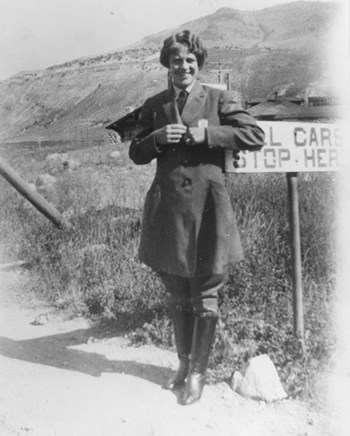 Ranger Irene Wisdom, 35, began the first of her seven seasons in June 1924, working with her ranger husband to register vehicles at a park entrance station. Each year she worked about three months. Her starting salary in 1924 was $100 per month and increased to $130 by her final season in 1930. Ranger Margaret Thone, 30, also began in 1924 and earned the same salary as Wisdom. She knew the park through her brother Frank, a seasonal park naturalist. Her temporary appointment ran from July 1924 through March 1925, after which she resigned for unknown reasons. Elizabeth Conard, 22, daughter of the park's head ranger-naturalist Dr. Henry Conard, served with him as a temporary ranger at Camp Roosevelt in 1926.
Frances Eva Pound, 19, began her first season as a temporary park ranger in 1926. Nicknamed "Jim," Pound moved to Yellowstone with her family in 1915. Her father, Thad C. Pound, was a park ranger, and she helped him at the Gardiner station whenever she could. She recalled filling in unofficially at the station for three days while all the rangers attended a meeting. Afterwards, Albright said, "How would you like to be a park ranger?" Pound didn't think it possible that she could be a ranger, but Albright replied "Well, I don't know. You've done such a good job. Do you think you could get a uniform and be ready by June 15th?"
She was a temporary ranger from 1926 to 1929. In August 1927, she arrested three park employees for transporting liquor into the park. Albright called her arrest of these bootleggers "the most important arrest of the season." During the winter of 1928, she was a clerk-stenographer in the park before returning as a park ranger (checker) for the 1928 and 1929 summers. Her sister, Virginia Pound, 18, only worked as a park ranger during the summer of 1927.