There is a long history of women working at different sites in Golden Gate National Recreation Area (GGNRA), even if their stories haven't always been told. These women's experiences reflect the historic change of gender roles in American society while highlighting their unique work with the National Park Service.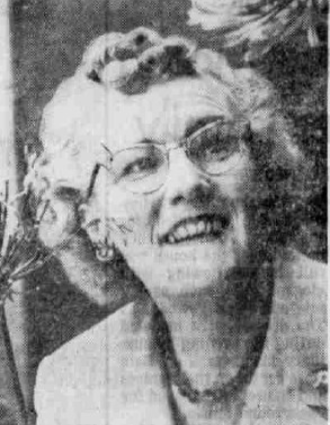 Park Rangers
In 1956, Gladys Smith became the first woman ranger-naturalist at Muir Woods National Monument. At that time, Muir Woods typically only had 2-3 permanent rangers employed, but often hired a temporary ranger-naturalist for the summer. Smith was hired for the season, part of Muir Woods' outreach efforts to partner with local educators as to better interpret the site. Smith was associated with the University of San Francisco's botany department. As a seasonal ranger- naturalist, she provided guided walks, interacted with visitors, and shared her extensive plant knowledge.
Commenting on her time in the park service, Smith said "There were almost no women rangers in the park system then; getting a uniform for me was a terrible rigmarole."4 She had to order men's uniform pieces and pair it with a skirt, as women's ranger uniforms did not exist. While Smith only worked at Muir Woods for a summer, she frequently returned to the park after her position ended and eventually wrote a book in 1963, titled Flowers and Ferns of Muir Woods.
Smith later taught at the University of San Francisco, the University of California at Berkeley and through the California Academy of Sciences, where she was heavily involved in their botany department.6
After Gladys Smith, Muir Woods didn't hire another woman as a ranger-naturalist for nearly twenty years. The park did, however, employ women like Karen Fox, Helen Diebold and Helen Goodlund, who worked as clerks, typists, receptionists and entrance station workers.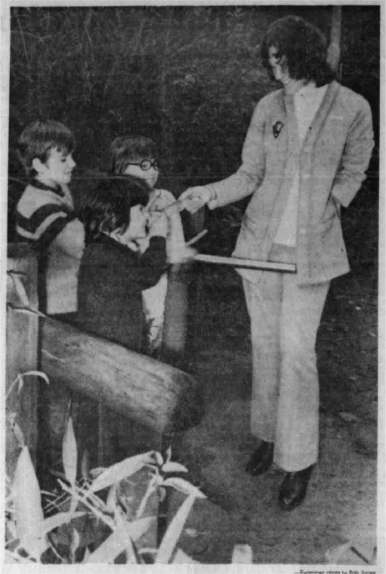 In 1973, Missy Voigt and Marilyn Strack were hired as seasonal rangers at Muir Woods. Voigt stayed at Muir Woods for a short time before transferring to Alcatraz. Strack worked at Muir Woods for over two years, and she was one of the first disabled employees at the park. While at Muir Woods, Strack contributed to the park newsletter, interacted with the public, and staffed the information and kiosk booth. Speaking of her experience at the park, Strack said "I was once just like the average park visitor. I didn't fully appreciate [the redwoods]. Now I feel they are my prize possessions and I want to share them with everybody."2

By the late 1970s, many of Golden Gate's seasonal rangers were women and more were becoming permanent employees in the park, like Debbie Matin, Lisa Dapprich and Sharon Paltin. Despite having the same job title and duties as their male counterparts, women's uniforms often differed, as seen in the various photos here, and it wasn't until 1978 that their uniforms became standardized. Read more about the uniforms here: Breeches and Blouses (U.S. National Park Service) (nps.gov)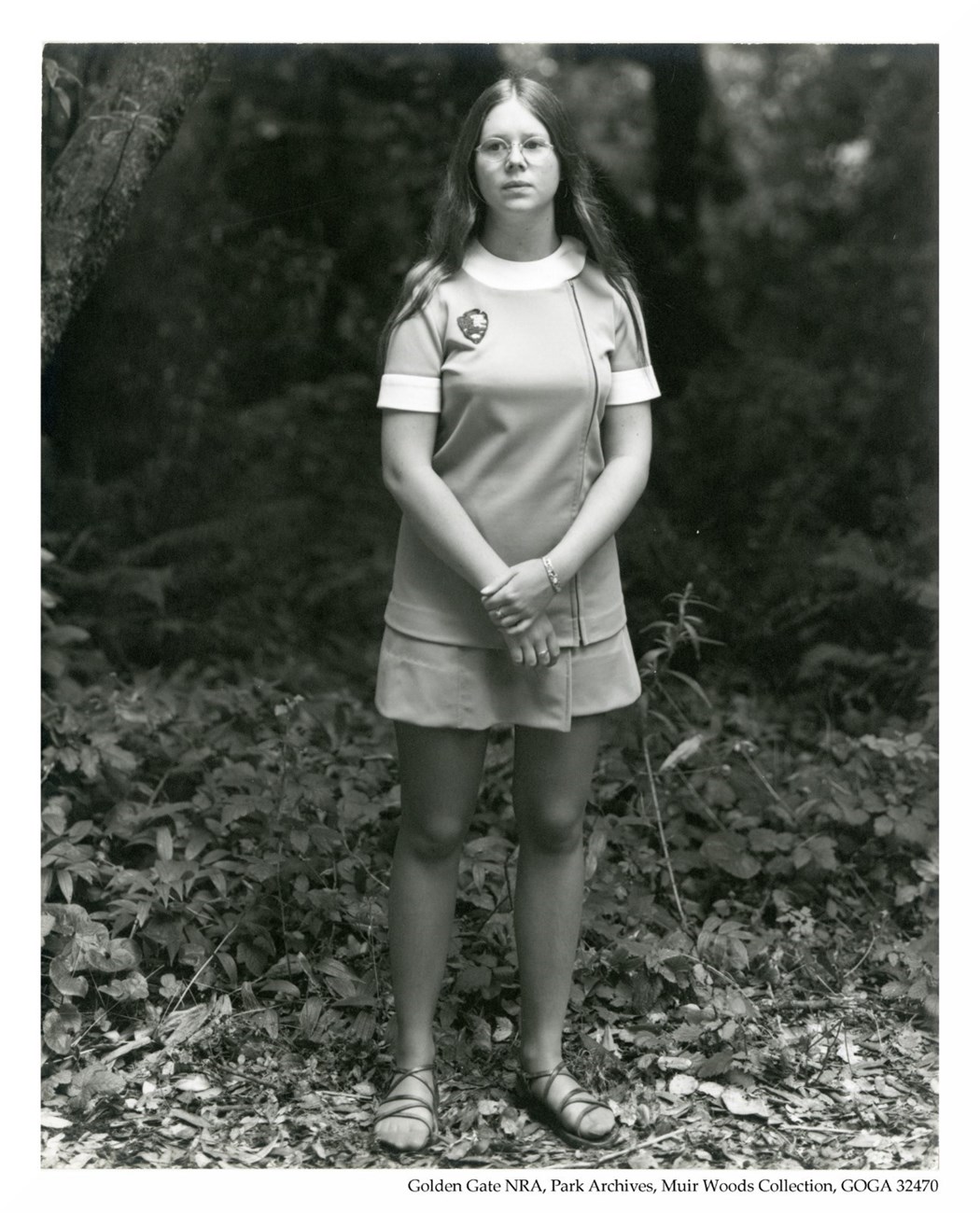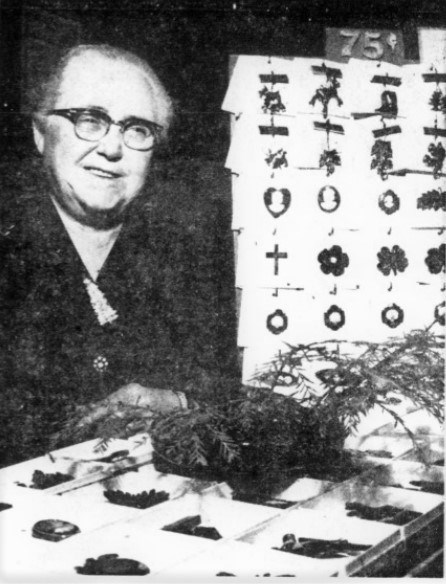 Concessioners
In 1933, Chauncey and Viola Montgomery built and operated the Muir Woods shop at Muir Woods National Monument. After Chauncey's death in 1945, Viola continued to run the shop for over 25 years, handling all the accounting and financial reports. A local resident of Mill Valley, Montgomery was noted for her strong work ethic and dedication to the store. Under her care, the shop was successful and was able to provide employment for other women.
Montgomery was originally from Ohio; she studied as a nurse and eventually became the supervisor of a hospital in Akron. She didn't move to the Bay Area until she married Chauncey, with whom she established the Muir Woods Shop.7
The Muir Woods Shop sold redwood souvenirs, provided lunches, and hosted thousands of visitors, groups, and distinguished guests over the years. Montgomery was well-known and respected among locals and visitors to the park, with one local newspaper feature in 1959 stating, "A trip to Muir Woods at any time of year is more than pleasant. But to include a visit to the curio shop and a chat with Viola Montgomery is to put the icing on the cake. By all means, try it."5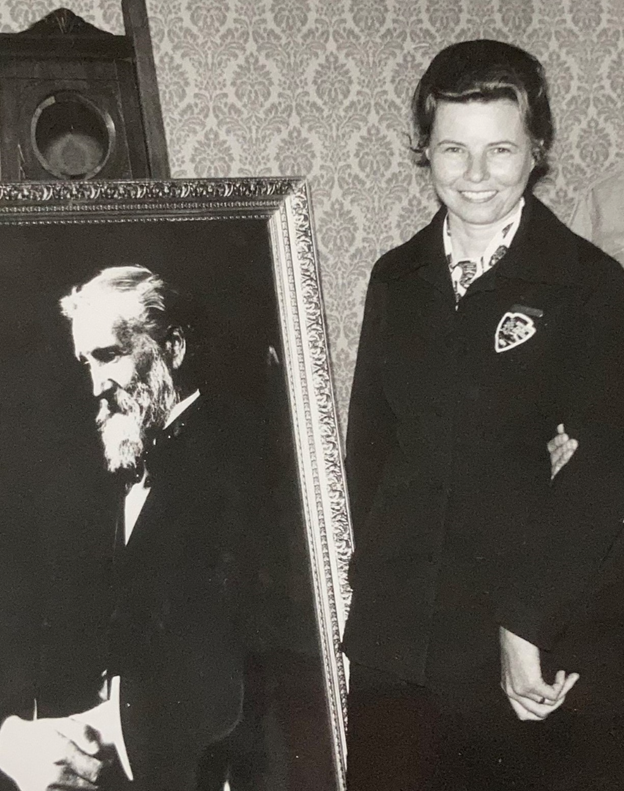 Chiefs, Supervisors and Superintendents
Doris Omundson started her career with the National Park Service as a seasonal information receptionist at Point Reyes National Seashore in 1966. She worked up to park technician and became Point Reyes' first uniformed woman employee. Omundson attended the NPS ranger training program in 1969, as one of eight women out of the thirty-five attendees.
In 1972, Omundson transferred to Muir Woods National Monument to become its first female Chief Naturalist. As Chief Naturalist, she oversaw scientific research in the park and occasionally stepped in as the acting superintendent of the site.
After her time at Muir Woods, she became superintendent of John Muir National Historic Site in 1973, making her the 7th woman superintendent in the park service. After seven years at John Muir, she was reassigned to Cabrillo National Monument where she worked as the park's superintendent for six years. Her final position was the superintendent of Lava Beds National Monument until her retirement in 1986.
Omundson credits her success in the park service to the cultural shift surrounding women's growth, the Civil Rights Bill of 1965 and Ed Kurtz, her Point Reyes Superintendent. She said that when Kurtz asked if she wanted to be the superintendent's secretary, she responded with "No, I want to be the superintendent."1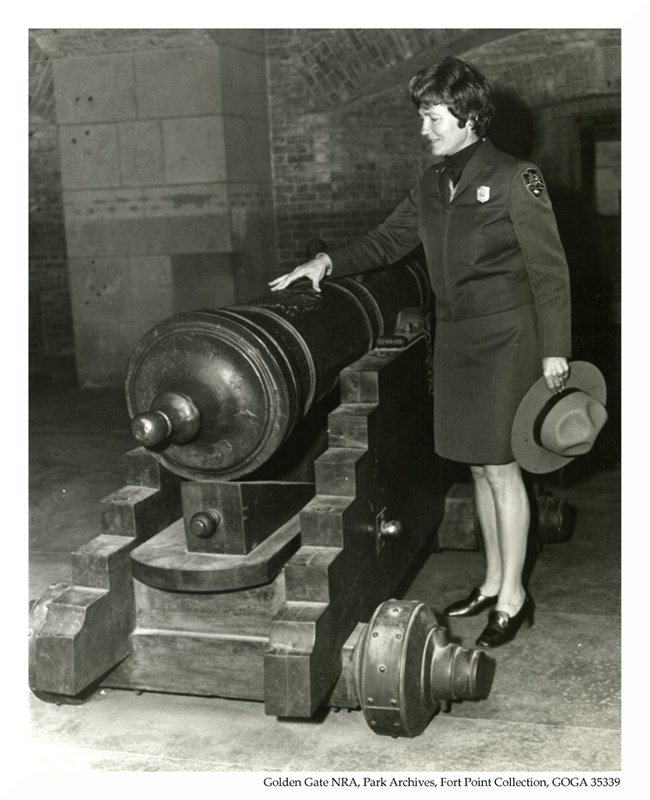 Marjorie M. "Mike" Hackett was the first woman superintendent of Fort Point National Historical Site in 1974, making her the 9th woman in National Park Service history to hold that position.
Hackett began her park service career in 1944 as a clerk typist after graduating from Central Business College in Colorado. She married to Coyt Hackett, another park ranger, and they both worked at Yosemite National Park for many years. While at Yosemite, she worked in various departments including Forestry, Resource Management, Visitor Services and Maintenance. In April 1974, Hackett transferred to Fort Point as a management assistant and became superintendent a few months later.
As the superintendent of Fort Point, Hackett managed various projects including the restoration of the fort, the expansion of museum collections and the strengthening of the education programs. In 1976, she became the unit land manager of Golden Gate National Recreation Area.3
After her time with the GGNRA, she served as the superintendent of Wupatki and Sunset Crater National Monuments in Arizona until her retirement in 1980.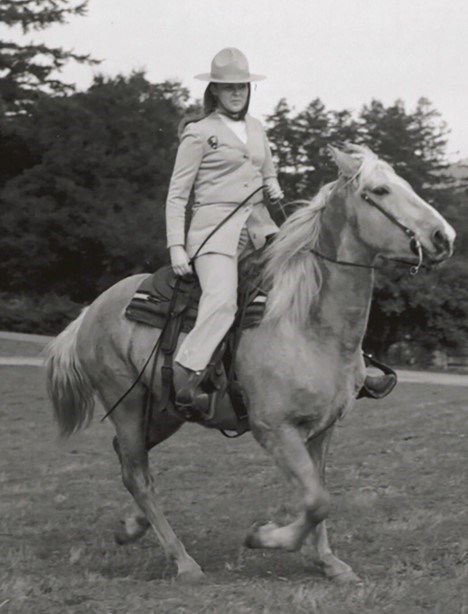 Evelyn (Lynn) Strong's first position with the National Park Service was a clerk typist at Point Reyes National Seashore in 1970. After graduating from UC Davis, Strong was hired to work at the newly established Point Reyes, where she had previously spent summers on a ranch that later became part of the park.
After spending three years in administration at Point Reyes, Strong decided she wanted to work in the field, so she applied and was hired as a park law technician in 1973. Strong was the only woman in law enforcement at Point Reyes and experienced many challenges including uniform differences, withholding of resources, including radio and vehicle use, and a lack of support among colleagues and the community.
The transition from her administrative work to law enforcement revealed the inequalities and struggles for women working in a male-dominated field. In a 1974 oral history interview, Strong remarked that "I'd been the ranger's secretary. I was everybody's darling...And I went to the field, and I became the enemy." Despite her qualifications, experience, and the fact that she graduated from law enforcement school, Strong was treated poorly. Her supervisor actively tried to stop her initial hiring, her colleagues often made crude jokes and cartoons at her expense, and she felt ostracized. Because of this discrimination, she eventually looked to transfer to another park.
After seven years at Point Reyes, Strong transferred to Alcatraz in 1978 as the assistant supervisor and technician. As the site's lead, she managed 15-20 employees, hired seasonal workers, planned programs, and expanded the site's outreach efforts. Working at Alcatraz and the GGNRA proved to be a more positive experience, with Strong saying, "I'm very happy to be in GGNRA because of the fact that it is much more progressive park, much more forward thinking."8
Works Cited
Bowen (Omundson), Doris. Interview by Paul Sadin on March 28, 2007.
Hamilton, Mildred. "Muir Woods' Marilyn Refuses to Be Limited." San Francisco Examiner, 16 Jan. 1974, p. 22.
Hamilton, Mildred. "Calling the Civil War Shots at Fort Point Historic Site." San Francisco Examiner, 14 July 1976, p. 23.
Leeds, Claire. "Music Teachers Hit New Note to Cure Middle Age Blues." San Francisco Examiner, 13 June 1961.
Lovett, Larry. "From Crash to Curio Shop." Daily Independent Journal, 11 July 1959.
McKinney, Joan. "She'll Introduce You to the Wild Life." San Francisco Chronicle. 20 June 1961.
Shumway, Mary. "ONE WOMAN'S VIEWPOINT She Commutes in a Rolls Royce to Her Forest Store." Mill Valley Record, 20 July 1960, p. 3.
Strong, Evelyn (Lynn). NPS Oral History Collection, interviewed by Dorothy B. Huyck on September 6, 1978, on Alcatraz Island. NPS History Collection, Harpers Ferry, WV.