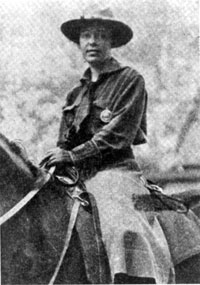 Early Challenges and The First "Rangerettes"
The first two "Rangerettes", as these early women were known, were Clare Marie Hodges (Wolfson) and Helene Wilson.

They were hired as temporary employees to fill vacancies left by men who responded to their country's call to arms to "save the world" in Europe. Helene Wilson, from Los Angeles, checked in vehicles in Mount Rainier National Park, while Hodges, a local grade school teacher, performed ranger service at Yosemite from May 22 to September 7, 1918.

It is not known what type of uniform, or identification, if any, that Wilson wore. There are, however, at least three photographs of Clare Hodges while on duty. From these she appears to have worn what was referred to at that time as "camping clothes". There are no pieces of regulation uniform evident, except for a badge and perhaps her hat.

In the early years, women found it very difficult to penetrate the male dominated National Park Service. Only a few foresighted people like Horace Marden Albright, then superintendent of Yellowstone, and Washington Bartlett "Dusty" Lewis, superintendent of Yosemite (who hired Hodges) gave women a chance to show that they could perform as well as a man.

Albright hired Isabel D. Bassett as a guide at Yellowstone in 1920. This started a trickle of women into the service. Marguerite Lindsley (Arnold) and Frieda B. Nelson were hired in 1925; Frances Pound (Wright), 1926; and Herma Albertson (Baggley) in 1929.

Only temporary, or seasonal, to use today's vernacular, female employees were hired to perform ranger duties. All permanent positions for women were classified as naturalists, even though some of them did occasionally perform ranger duties.