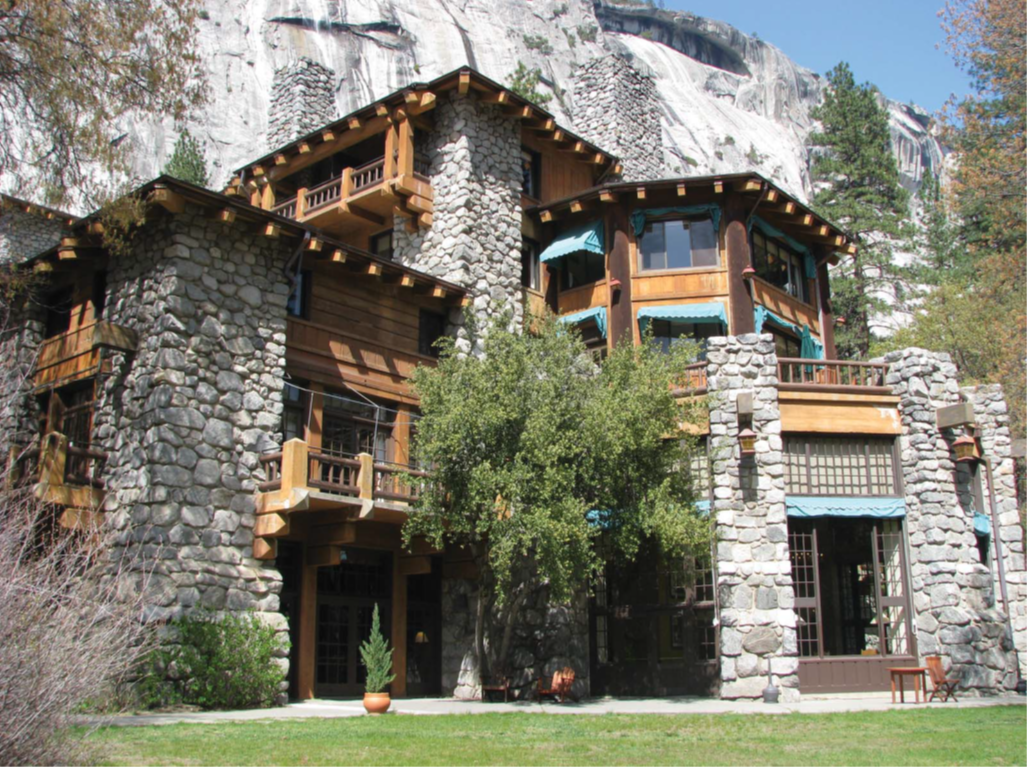 Yosemite National Park, with funding from the
Great American Outdoors Act
(GAOA), has been conducting a multiphase project to make repairs and upgrades to the Ahwahnee Hotel. This leg of the project will bring the landmark hotel and associated cottages into compliance with current codes, seismic safety, and accessibility standards.
Yosemite National Park is located within a high-risk boundary for earthquake activity. This phase of the project will renovate structures of the building to meet modern seismic safety standards.
The Ahwahnee Hotel, built from 1926-1927, is a grand, rustic lodge in Yosemite National Park. It is a National Historic Landmark and is one of the most significant park hotels in the country. The architecture, placement, and views of the Ahwahnee are identifiable symbols of the Yosemite experience. The hotel serves approximately 100,000 lodging guests per year and about 300,000 visitors who use the hotel to shop and dine or use amenities like the lounges, meeting rooms, and grounds.
Project at a Glance:
This $34.213 million project renovates structural aspects of the Ahwahnee Hotel to meet modern seismic safety standards for extreme landmark earthquakes (500-year and 2,500-year). This phase of the multi-year project focuses on the dining room, egress paths, and chimneys of the hotel.
What are the Benefits:
While many National Park visitors love to enjoy the outdoors by camping, many guest like to stay in the historic hotels and lodges on National Park property. Renovating this historic building ensures visitor safety and protects the building's historic value.
Project Purpose and Goals
Complete structural seismic retrofits to ensure the hotel will better withstand major earthquake events
Protect the historic value of one of the most significant cultural properties of the National Park Service
Mitigate the disaster repair costs of future minor seismic events
Improve visitor and employee safety by installing upgraded fire detection, alarms, sprinkler systems, and fire exits
Rehabilitate the kitchen floor structure and utility infrastructure
Upgrade the dining room heating, ventilation, and air conditioning system to improve visitor comfort
Correct over $18 million of deferred maintenance and repairs
Reinforce the fireplace and stone chimney
Anchor interior and exterior stone veneer
Replace large plate glass windows in the dining room, solarium and other historic ground floor windows in public spaces
Install structural bracing to the Porte Cochere and Entry Gallery
Repair exterior log columns
Current Status
Planning and design are complete. Construction contract was awarded in July 2022. Work will begin in fall of 2022.