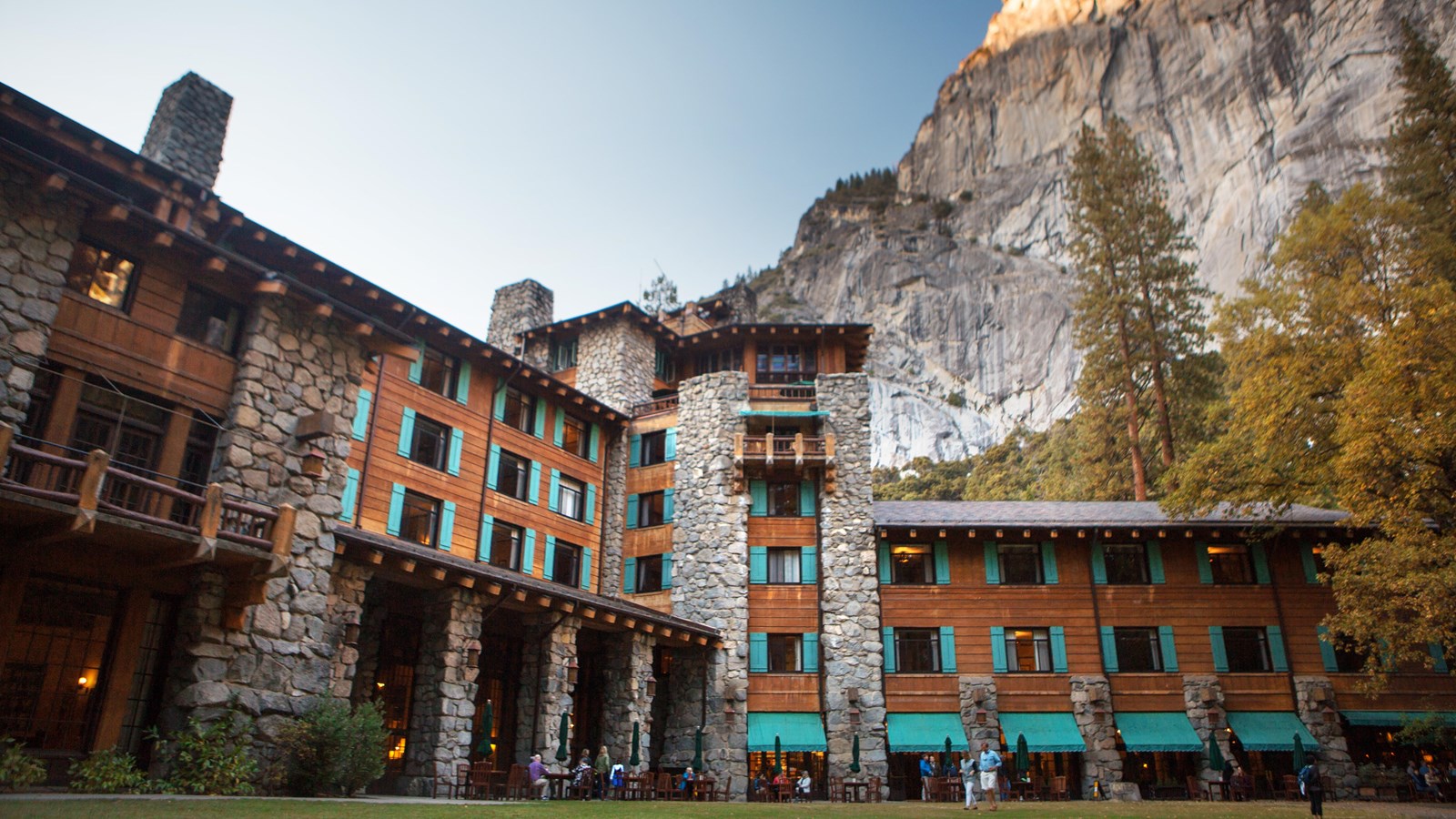 Accessible Rooms, Bus/Shuttle Stop, Electric Car Charging Station, Food/Drink - Bar/Alcohol For Sale, Food/Drink - Restaurant/Table Service, Gifts/Souvenirs/Books, Historical/Interpretive Information/Exhibits, Recycling, Restroom, Trash/Litter Receptacles, Wheelchair Accessible
Known for its stunning interior design and architecture, The Ahwahnee was specifically designed to highlight its natural surroundings, featuring Yosemite Falls, Half Dome, and Glacier Point.
The destination of queens and presidents alike, this distinctive Yosemite hotel offers a perfect balance of history, hospitality and elegance.
The Ahwahnee offers hotel rooms, suites, parlors, and cottages. There is a gift shop with a focus on local artisans, a sweet shop, a bar, and a heated outdoor swimming pool on the premises. The Ahwahnee Dining Room serves breakfast, lunch, dinner and Sunday brunch. See the latest issue of the Yosemite Guide for hours.
See website for more information about the rooms, to check availability, to book a room, and to get an idea of things to do in The Ahwahnee area.
With one glimpse of The Ahwahnee, you'll be transported back in time, to an era of elegance and new possibilities. Commissioned in the 1920s in the pursuit of drawing more affluent visitors to Yosemite National Park, The Ahwahnee is a testament to the vision and perseverance of American ingenuity. More than 5,000 tons of stone, 1,000 tons of steel, and 30,000 feet of lumber were transported through the mountains to create the hotel. Read more about its history.
Hours
Year-round
The front desk is staffed 24 hours a day.
Check-in: 4 pm
Check-out: 11 am
Getting Here
You can reach Yosemite Valley via Highways 41, 140, and 120. Follow signs for The Ahwahnee, located in eastern Yosemite Valley. Parking is valet only. The Ahwahnee is also serviced by the Valleywide Shuttle, stop #3.
Rules & Regulations
Smoking is strictly prohibited at all accommodations and buildings in Yosemite.
There are no pets allowed on property.
Hazards & Warnings
Bears have broken into cars, sometimes when only a candy wrapper or closed cooler was in view. If staying overnight, remove all scented items, food related or others and store in your room or bear-proof storage lockers.
Accessibility
All lodging facilities in the park meet accessibility requirements. Select rooms and cottages are accessible. Valet parking is available, and designated accessible parking spaces are located in the parking lot. An accessible path of travel connects the hotel with the cabins.
Last updated: April 14, 2023