Abstract
Imagine Boulder in the early 1900's. There were not quite 10,000 people living in town, less than a tenth of Boulder's population today. There were no paved streets and Boulder's focus as a mining supply town was still in full force, with numerous smelters and mills located right along Boulder Creek. While Boulder had been selected as a site for the state university in 1861, it didn't open until 1877, and in 1910 graduated just 163 students.
Before there was an official city commission dealing with parks and planning (1918), and before there was city zoning (1928) there was the Boulder City Improvement Association (BCIA). This group of public-spirited citizens came together in 1903 to promote "the improvement of Boulder in health, growth, cleanliness, prosperity and attractiveness."
In 1907, the BCIA sought the services of Frederick Law Olmsted, Jr. (FLO, Jr.). Their letter to the Olmsted Brothers stated, "We are a small but ambitious little town…situated 30 miles northeast of Denver. We want advice, and the best obtainable, as to how to improve our city as to Parks, Boulevards and general plans for Civic betterment."
The firm submitted a report, The Improvement of Boulder, Colorado on November 9, 1908, about 6 months after a brief visit by FLO Jr. It is some 30 pages of dense text with a center-piece illustration that was also produced as a wall map: Plan of Improvements, March 1910.
The report covered details like proper street lights, street trees, and the use of macadam for roads. But more broadly he called for a city of fine homes and limited manufacturing.
The plan focuses on what is under public control: streets, waterways, parks and open space, and public buildings. He proposed many new street connections and a street hierarchy. And he suggested new sites for parks and advocated the protection of the mountain backdrop. Olmsted also addressed the progressive era themes of good government, the appropriate use of the police power, and taxation to support the development of infrastructure.
Subsequent work by the Olmsted Brothers including planting plans for public schools, work on sewerage and drainage in concert with Metcalf and Eddy, park boundary studies, bridge design, and a grand scheme for park improvements along Boulder Creek stretching for some eight city blocks. This work continued into the 1920's, with mixed results.
Looking now, in the 2020's at this work, the Olmsted Plan has been held out by some as a key turning point in Boulder's development, when elitism and racism played a role in turning the city's direction to the exclusion of working-class people in favor of a more "refined" university town. In what ways was the Plan a reflection of local mores, and in what ways does it reflect the attitudes of FLO, Jr. and the Olmsted Brothers?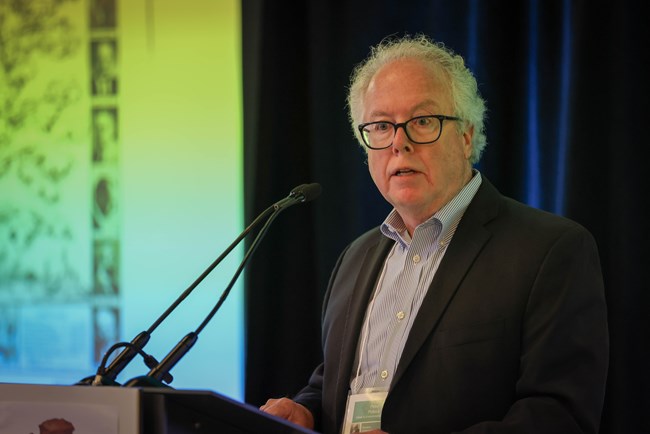 Presenter Biography
Peter Pollock, FAICP, is an urban and environmental planner based in Boulder, Colorado. From 2006 to 2018 he managed Western Programs for the Lincoln Institute of Land Policy. He worked for almost 25 years for the City of Boulder, Colorado and he served as director of the city's Planning Department from 1999 to 2006. Pollock has presented his research on the work of Frederick Law Olmsted, Jr. in Boulder at the NAOP symposium on FLO, Jr. in Washington, D.C. in 2013, and at the 17th National Conference on Planning History by the SACRPH in Cleveland in 2017.