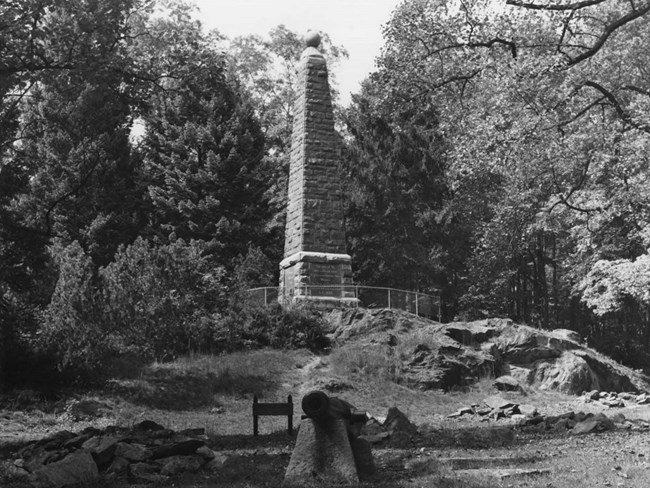 Recipient: Connecticut Radio Information System
Amount
: $46,241.04 
When 16-year-old Joseph Plumb Martin mustered into the Connecticut militia in 1776, he likely didn't imagine that the winding road of his Revolutionary War service would lead him 25 miles down the road and two years later to the Continental Army's winter quarters at Redding. Martin's journal, published years later, describes bleak camp conditions saying that the troops "went on in our old Continental Line of starving and freezing. We now and then got a little bad bread and salt beef [and] a good deal of snow fell, and in such weather it was mere chance if we got anything at all to eat." Dire conditions during the winter of 1778-1779 led to several uprisings among the ranks at Redding and desertions, resulting in at least two court martials and executions. Troops left the encampment later that spring with stories of suffering and, in some cases nuptials, that would last a lifetime.
With the support of a Battlefield Interpretation Grant from the
American Battlefield Protection Program
, the Connecticut Radio Information System will leverage GPS and GIS technology in a smartphone app. The app will ensure universal accessibility to the stories of unknown and unacknowledged participants at the Redding encampment. The project brings together an interdisciplinary team of educators, researchers, and stakeholders to uncover and narrate experiences at Redding—including the lives and perspectives of soldiers and civilian from diverse communities—currently hidden from history.
NPS ABPP's Battlefield Interpretation Grants empower preservation partners nationwide to modernize and enhance battlefield interpretation – to inspire wonder, understanding and empathy at the places that witnessed some of our nation's most challenging events. In addition, the program administers three other grants: Battlefield Land Acquisition, Preservation Planning, and the newly authorized Battlefield Restoration Grants. This financial assistance generates community-driven stewardship of historic resources at the state, tribal and local levels.
Get Your Project Funded
Check out the American Battlefield Protection Program's website for more information about various grant offerings and eligibility.
Learn more!