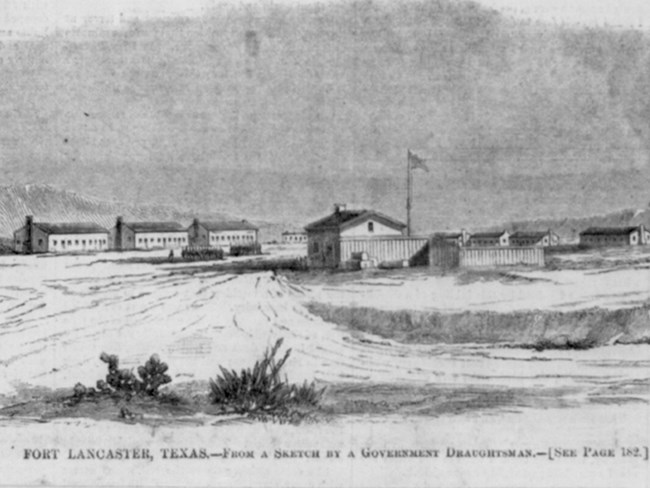 Recipient: Texas Historical Commission
Award Amount
: $69,000.00
A dust cloud formed behind Kickapoo riders as they attacked Fort Lancaster through rocky soil on December 26, 1867. A bold and unprecedented move, the Kickapoo intended to make a direct assault on the post and take the US Army horses corralled there. The post was protected by Company K of the 9th US Cavalry Regiment, an all-Black unit with Civil War veterans in the ranks. Forced into defensive positions, the cavalrymen maintained disciplined fire but were unable to prevent the Kickapoo from taking the horses, leaving the 9th without mounts and unable to pursue their attackers for weeks.
Using a Preservation Planning Grant from the
American Battlefield Protection Program
, Texas Historical Commission seeks to expand understanding of the battle through additional research, targeted archeology and a partnership with the Kickapoo Traditional Tribe of Texas to define the site's significance. The Battle of Fort Lancaster provides multiple perspectives on the complicated history of westward expansion and how it touched the lives of the Kickapoo tribe and the soldiers of Company K.
Preservation Planning Grants
are the American Battlefield Protection Program's broadest and most inclusive grant program, promoting the stewardship of battlefields and sites of armed conflict on American soil. In addition, the program administers three other grants: Battlefield Land Acquisition Grants, the newly authorized Battlefield Restoration and Battlefield Interpretation grant programs. This financial assistance generates community-driven stewardship of historic resources at the state, tribal and local levels.
Get Your Project Funded
Check out the American Battlefield Protection Program's website for more information about various grant offerings and eligibility.
Learn more!