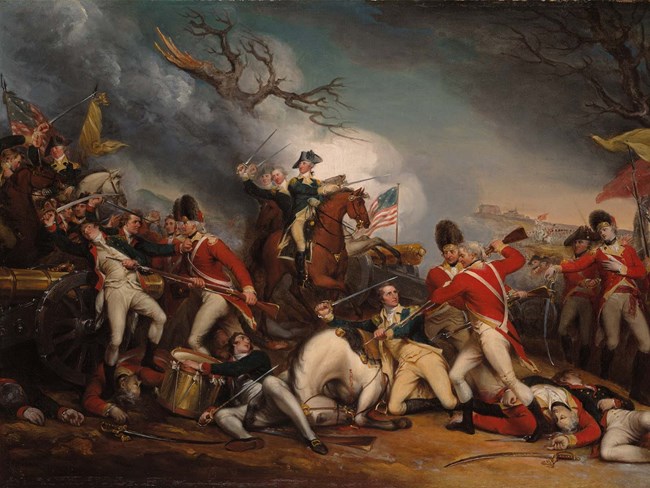 Recipient: American Battlefield Trust
Amount
: $93,500.00
A cold dawn broke as the Continental Army entered the town of Princeton, New Jersey, frost crunching underfoot. After the disastrous defeat at the Battle of Long Island in 1776, General George Washington had ushered the battered army across the Delaware River and into Pennsylvania. By this time, the army had achieved a victory at Trenton and it seemed that the low ebb of the tide was shifting in their favor.
These "Ten Crucial Days" – December 25, 1776 to January 3rd, 1777 – would see an additional American victory at the Battle of Princeton. Here, Washington led the charge himself, rallying the troops. These victories were critical in rekindling support for American Independence, increasing recruitment that spring and improving moral among the soldiers.
The American Battlefield Trust (ABT) and Princeton Battlefield State Park plan to bring this story to life for visitors. Thanks to a 2021 Battlefield Interpretation Grant from the
American Battlefield Protection Program
, they will highlight diverse perspectives of the battles, including those of a soldier, a Quaker woman, a Loyalist, and a Black marine in the Continental Army. Interpretive products include traditional brochures and waysides, along with innovation technologies. One of these includes a smartphone Battle App featuring self-guided tours and Augmented Reality experiences. These opportunities will enrichen the visitor experience as the country looks to commemorating the 250th anniversary of the American Revolution and founding of the country in 2026.
NPS ABPP's Battlefield Interpretation Grants empower preservation partners nationwide to modernize and enhance battlefield interpretation – to inspire wonder, understanding and empathy at the places that witnessed some of our nation's most challenging events. In addition, the program administers three other grants: Battlefield Land Acquisition, Preservation Planning, and the newly authorized Battlefield Restoration Grants. This financial assistance generates community-driven stewardship of historic resources at the state, tribal and local levels.
Get Your Project Funded
Check out the American Battlefield Protection Program's website for more information about various grant offerings and eligibility.
Learn more!