There are millions of acres of pristine wilderness in the National Park System but also places where man's footprint is industrial. Those scarred landscapes are in for some TLC in the form of restoration projects funded through the Bipartisan Infrastructure Law (BIL).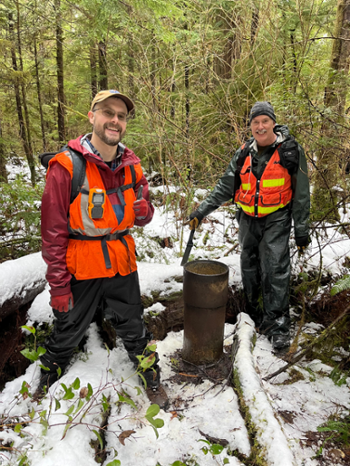 Energy Community Revitalization Program
Bipartisan Infrastructure Law funds are being directed to four different areas within the National Park Service (NPS): ecosystem restoration, transportation, wildland fire, and legacy pollution under the Energy Community Revitalization Program (ECRP). ECRP projects will plug, remediate, and reclaim orphaned wells in national parks. The projects will be prioritized based on three factors: public health and safety, potential environmental harm, and other subsurface impacts or land use priorities.
"The Bipartisan Infrastructure Law was very good news for the National Park Service," said Julia Brunner, branch lead of the National Park Service's Energy and Minerals Program. "We have what I thought were hundreds of abandoned oil and gas wells and mines on NPS lands, but we've never had the funding to make those old wells and mines safe for wildlife and park visitors."
As it turns out, the Infrastructure law first provided an accurate inventory of those old wells – there are approximately 1,800 oil and gas wells located in at least 47 parks – and the funding to plug, remediate and reclaim these sites. To date, 26 well reclamation projects have been approved for Infrastructure law funds, and two wells in Jean Lafitte National Historical Park and Preserve have been completed, with more planned for this year.
Before the Bipartisan Infrastructure Law, wells were plugged and reclaimed when funding became available. "That was rare," Brunner said. "For example, we have plugged wells with a variety of funding sources, but we haven't had our own sustained funding source to plug wells systematically across the Service."
The first thing Brunner did when she became branch lead was to hire a petroleum engineer. That was Forrest Smith, and his first job was to inventory the abandoned wells using various databases. "Once he started looking through our records on oil and gas wells, he found nearly 2,000 wells in the parks," Brunner said.
Understanding NPS' Role in Well Reclamation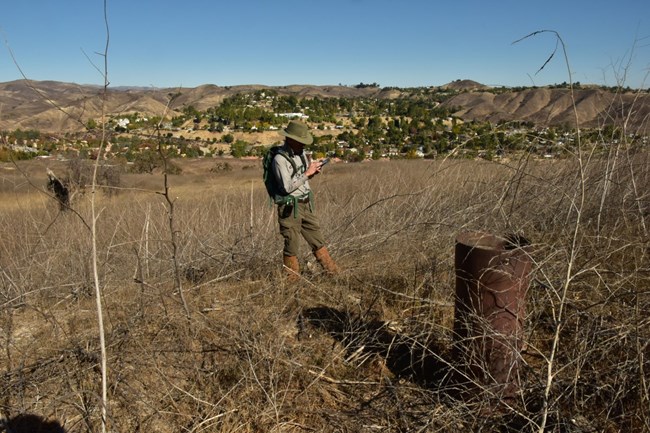 Tracking these wells down was no easy task for Smith. NPS has a subscription to a private company that compiles all oil and gas information from individual state governments to one platform. He also used all available state governments' oil and gas databases, in addition to NPS hard files that referenced known oil and gas wells.
With funding from the Infrastructure law, Brunner added additional detectives – well inspectors. Their research leads them to places they are likely to find abandoned wells and can assess their condition. "Many of the well sites have an operator that we reach out to and tell them to come and plug their well," Brunner said. "When we cannot identify an operator, we use BIL funds to plug the wells ourselves."
The inspectors' fieldwork is as adventurous as it is dangerous. "We consider our grounds team to be like Indiana Jones," Brunner said. "They are out there in the wilderness with hatchets, sometimes fighting off alligators to find these wells." Brunner makes sure to keep in constant communication while a team is in the field. She is a stickler for safety. "When our inspectors are out in the field, we have them call every night to check in," Brunner said. "The work they are doing is important, but we want to make sure they are safe out there."

Not all wells are sticking up out of the ground or partially hidden by weeds, trees and shrubs. "These inspector detectives have more than a map and compass to work with," Brunner said. "The Infrastructure law funds have also helped us buy tools and technology. We now have advanced equipment to detect and measure methane and we can equip helicopters with magnetometers that can find wells buried in the wilderness."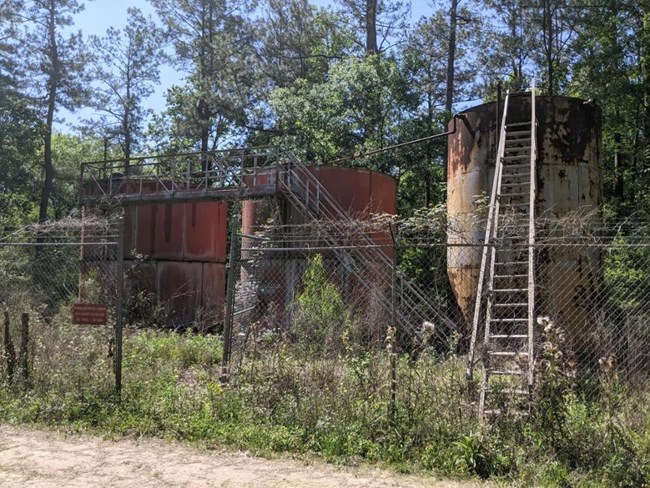 The process for declaring a well as "abandoned" or "orphaned" comes with its own challenges and guidelines. "There's a whole legal process to make sure that there is no solvent operator," Brunner said. "We have to try and find the last known operator, because we don't want to make a mistake and plug a well if there is still an existing operator."
"It is a lengthy, complicated process to get to that point where they are legally called orphaned," Brunner said. "A well can be abandoned with an operator that's solvent, but it's getting to the orphaned stage that is really important."
Why would park visitors care about abandoned wells? To begin with, Brunner said, they are accessible to the public which poses significant dangers to park visitors and local communities. While most wells are buried deep in park wilderness, some are located right along main trails in urban parks. "They are a physical safety issue. These wells are explosive, and they are filled with fluid, so there is a drowning risk," Brunner said. "They are emitting gas, mostly methane, which can cause health issues."
The Bipartisan Infrastructure Law helps agencies reduce methane emissions and contamination of groundwater and surface water associated with orphaned wells. The law also prioritizes public safety and benefits to disproportionately impacted communities of color, low-income communities, and Tribal and indigenous communities. The law's Energy Community Revitalization Program has received $9.8 million for 26 projects in the 2022 fiscal year. While it may seem like a lot of money, the amount of work that goes into maintaining the National Parks is priceless.

This project was made possible by the Bipartisan Infrastructure Law – Ecosystem Restoration, signed on November 15, 2021. It is a historic investment in the restoration and protection of the environment. Learn more here.