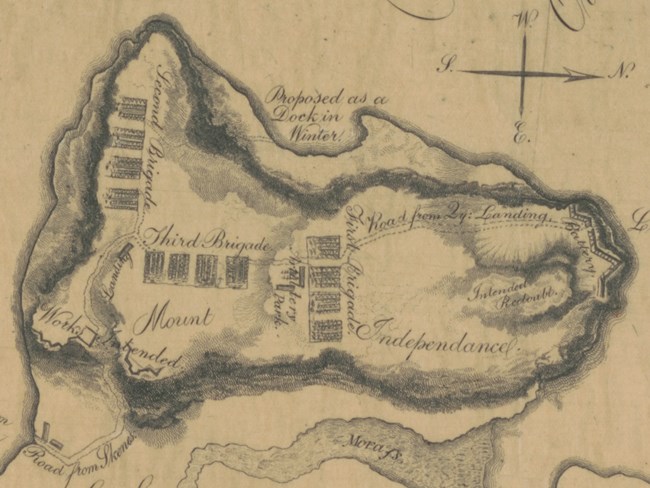 Recipient: Vermont Division of Historic Preservation
Award Amount:
$40,900.00
As autumn leaves changed color in the fall of 1776, the recently formed United States of America were under attack. American armies were in retreat from Canada and losing battle after battle in New York. On Lake Champlain, a small American squadron fought hard at Valcour Island but lost nearly all of its ships, leaving the majority of New England undefended. Only Mount Independence and nearby Fort Ticonderoga stood in the way of the British advance. Built during the summer of 1776, the military complex on Mount Independence was one of the largest of the Revolutionary War. Its three-tiered system of gun batteries turned back a British invasion force in October without firing a shot.
Thanks to a Preservation Planning Grant from the
American Battlefield Protection Program
, the Vermont Division of Historic Preservation will digitize old archeological reports, fading slides, and brittle photographs to create a system for the continued stewardship of the Mount Independence archives. Once digitized, the records will be made accessible to the general public and provide a window into the lives of the people who labored at the site during the American Revolution and beyond.
Preservation Planning Grants
are the American Battlefield Protection Program's broadest and most inclusive grant program, promoting the stewardship of battlefields and sites of armed conflict on American soil. In addition, the program administers three other grants: Battlefield Land Acquisition Grants, the newly authorized Battlefield Restoration and Battlefield Interpretation grant programs. This financial assistance generates community-driven stewardship of historic resources at the state, tribal and local levels.
Get Your Project Funded
Check out the American Battlefield Protection Program's website for more information about various grant offerings and eligibility.
Learn more!