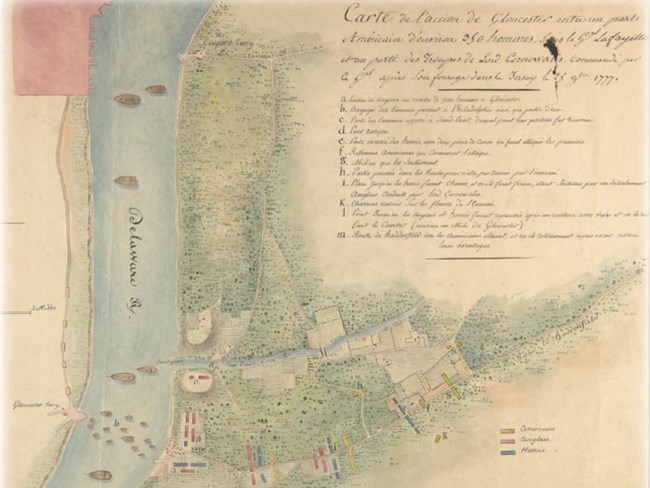 Recipient: Camden County Historical Society
Amount
: $150,000.00
Southern New Jersey was contested territory in 1777-1778. British forces had successfully captured Philadelphia after the Battle of Brandywine. While a triumph for British forces, it was tenuous. Continental artillery continued to threaten from just across the Delaware River in Camden County, NJ and the Continental Army controlled the countryside west of Philadelphia. In November, the British captured Forts Mercer and Mifflin on the Delaware River, just outside the city. Throughout the winter, British foraging expeditions took food and supplies from the countryside, increasing animosity among civilians. Following France's alliance with the Americans in June 1778, the British changed their tactic to meet the new threat and abandoned the city.
After years of historic and archeological research, Camden County Historical Society will use a Battlefield Interpretation Grant from the
American Battlefield Protection Program
to highlight the lesser-known stories of the Philadelphia Campaign, just in time to celebrate the country's founding in 2026. This project builds on three previous Preservation Planning grants awarded to the county in 2013, 2014, and 2017 that researched the Fort Mercer Battlefield, the Battle of Gloucester, and Cooper's Ferry. The historical society will create an American Revolution Mobile Audio App, featuring 39 interpretive signs. Starting at Philadelphia's Independence Hall, this experience will weave together the Battle of Brandywine, the capture of Philadelphia, the Valley Forge winter encampment, and local sites in Camden County.
The mobile app will be offered in English and Spanish, complete with audio descriptions for those with limited sight. Additionally, the historical society will collaborate with the Nanticoke Lenni Lenape Tribal Nation to highlight local Native American experience during the Revolution. Other partners include the New Jersey Conservation Foundation, the County Planning Department, and local public officials.
NPS ABPP's Battlefield Interpretation Grants empower preservation partners nationwide to modernize and enhance battlefield interpretation – to inspire wonder, understanding and empathy at the places that witnessed some of our nation's most challenging events. In addition, the program administers three other grants: Battlefield Land Acquisition, Preservation Planning, and the newly authorized Battlefield Restoration Grants. This financial assistance generates community-driven stewardship of historic resources at the state, tribal and local levels.
Get Your Project Funded
Check out the American Battlefield Protection Program's website for more information about various grant offerings and eligibility.
Learn more!