Abstract
An article in the Mount Holyoke Alumnae Quarterly Winter 1988 edition states, "Like George Washington who seemed to have slept in every eighteenth century home in the Colonies, Frederick Law Olmsted, plus his son [sic] and associates, appears to have had a hand in the landscape design of just about every large estate, park, and campus during the last part of the nineteenth century and the early years of this century."1
Situated in the foothills of the Mount Holyoke Range sit the members of the Five College Consortium: Smith, Amherst, Mt. Holyoke, Hampshire, and the University of Massachusetts, Amherst, four of which were founded in the nineteenth century. For the purposes of this discussion, Hampshire College is omitted, having been founded in 1965 and on an entirely different academic model than the earlier four. Evenly split among the sexes at their founding, Smith and Mt. Holyoke being women's colleges and UMass and Amherst being men's, an examination of campus design in building and landscape can tell us a great deal about not only educational philosophies at the time of their founding, but societal ideas in general. Beyond being connected simply by geography, Smith, Amherst, and Mt. Holyoke share early personnel in the form of professors from one college acting as trustees or campus leaders for another, leading to intersections in architecture and landscaping between the campuses. These three colleges were all founded privately, and based on a classical education, regardless of the gender of student. UMass, founded under the Morrill Land Grant of 18622, is an outlier in both campus design and curriculum, and thus is examined separately from the other three.
Frederick Law Olmsted Sr. and/or his successors were involved with or created plans for each of the nineteenth-century colleges, implemented to varying degrees. This paper will discuss the early landscape history of each of the four colleges, including landscape designs by the Olmsteds, place a few key buildings for each into context, and demonstrate the interconnection of the colleges in the area.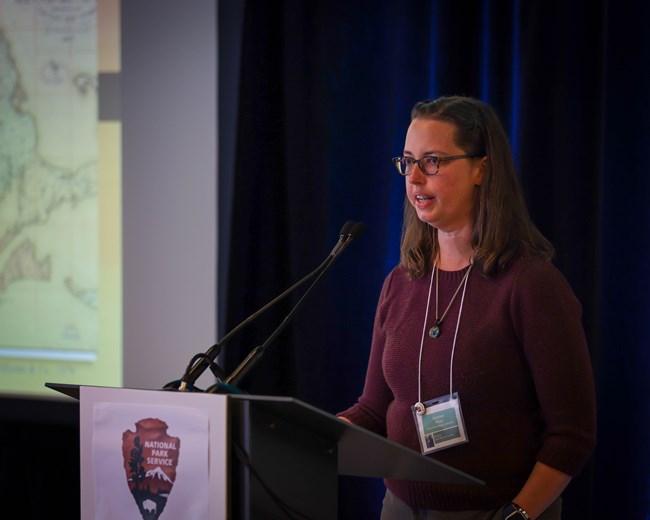 Presenter Biography
Gretchen Pineo is an Architectural Historian at the Public Archaeology Laboratory in Pawtucket, RI, where she specializes in architectural surveys and state-level and National Register documentation for a variety of public and private clients, including the National Park Service, the Massachusetts Historical Commission, and cities and towns throughout New England. She is a graduate of the University of Massachusetts-Amherst, the Tufts University Museum Studies Program, and the Boston University Preservation Studies Program.