While you're "parked at home" this winter, the National Park Service encourages you to create some national park themed treats!
Share your treats with us by using the social media hashtags #GreatNPSBakeOff and #NationalCookieDay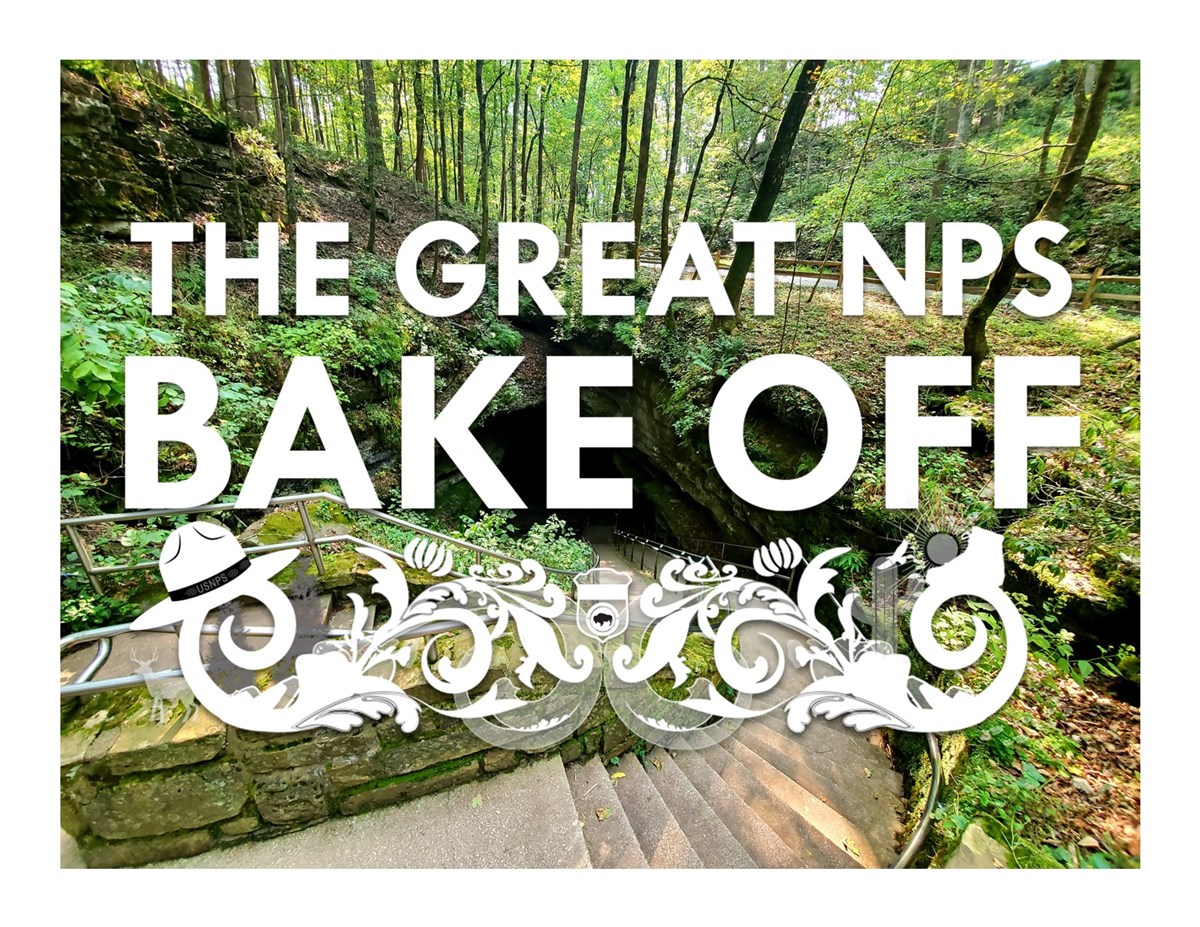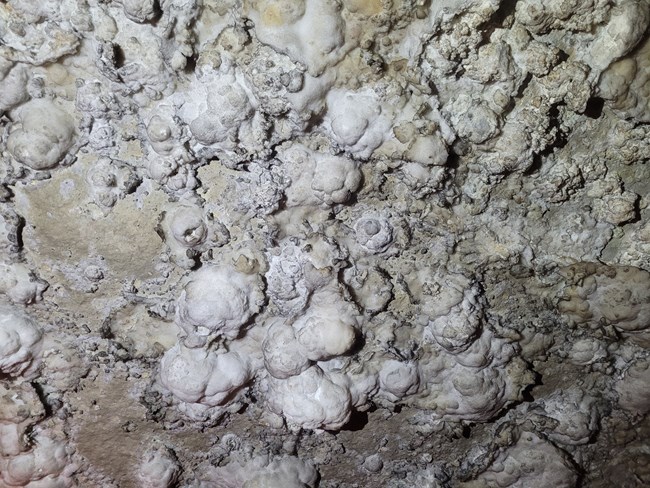 Inside of Mammoth Cave there are mineral formations made of gypsum. Gypsum (chemical name calcium sulfate) forms naturally from the limestone and takes on many shapes. The Snowball Room of Mammoth Cave has its name because of the gypsum blisters on the ceiling resembling snowballs stuck onto the ceiling.

The Snowball Room, also referred to as the Snowball Dining Room can be seen on the Grand Avenue Tour, Accessible Tour, and Cleveland Avenue Tour.

While we don't recommend eating the cave snowballs, you can make your own snowball cookies at home!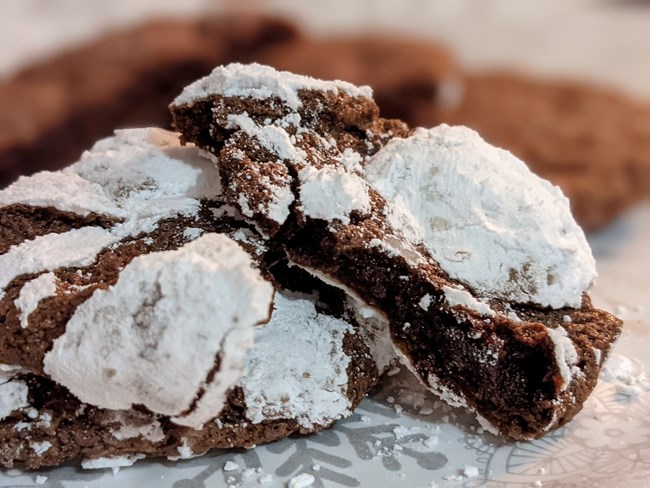 Yields 3 dozen cookies
Prep time: 20 minutes + 4-hour chill time
Cook time: 10 minutes
Ingredients:
1 cup unsweetened cocoa powder
2 cups granulated sugar
½ cup unsalted butter (preferred) or oil
4 eggs
2 tsp baking powder
2 cups all-purpose flour
½ cup powdered sugar (for rolling)


Steps:
In a bowl, beat the cocoa, granulated sugar, and butter on medium speed. Reduce the speed to low and add one egg at a time until combined.
Mix in the baking powder and flour. Cover the bowl with plastic wrap and chill in the refrigerator for 4 hours.
Preheat oven to 350 degrees F. Line cookie sheet with parchment paper. Roll dough into 1-inch balls and coat with a thick covering of powdered sugar. Place on the baking sheet at least 2 inches apart.
Bake for 10 minutes. Allow to rest on the hot cookie sheet for 1 minute before transferring to a wire rack to cool completely.
"Oh, Ranger!" Chocolate Peppermint Cookies (Gluten Free)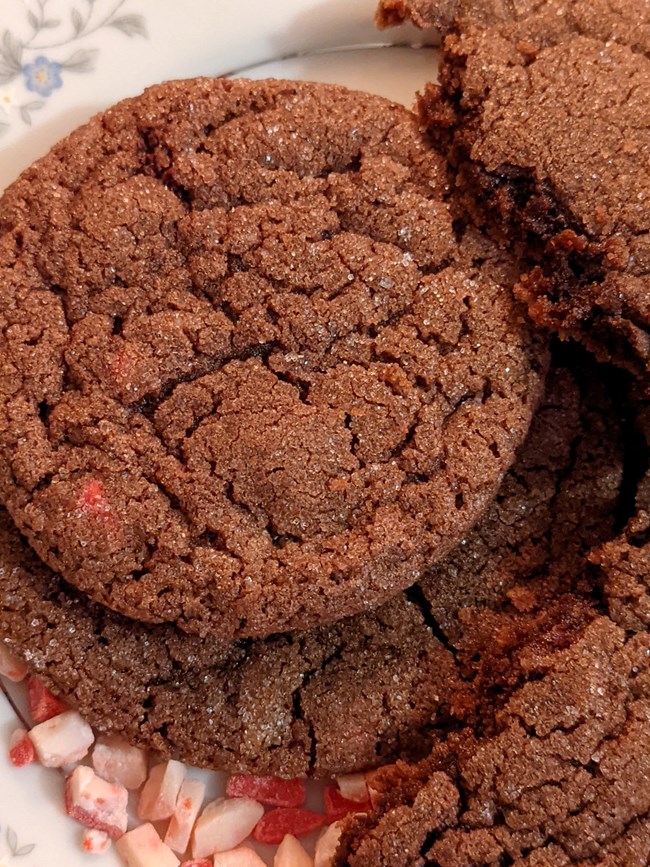 Yields 4 Dozen Cookies

Prep Time: 15 Minutes
Cook Time: 9 Minutes
Ingredients:
1 cup unsalted butter, softened
½ tsp salt
1 tsp vanilla extract
2 cups gluten free flour
1 tsp baking soda
¾ cup cocoa powder, unsweetened
1 cup peppermint baking chips
2 eggs
2 cups granulated sugar, plus sugar for rolling
Steps:
Preheat oven to 360 degrees F.
In bowl or mixer, cream butter and 2 cups sugar.
Add eggs and vanilla. Blend batter and until it is soft and fluffy.
Slowly add cocoa, flour, baking soda, and salt.
Mix the dough until it is thick and well formed.
Fold in peppermint chips.
Ball up a teaspoon of dough and roll in sugar til covered.
Place two inches apart on parchment paper on a cookie sheet.
Bake for 9 minutes and allow to cool for 2 minutes before transferring to a cooling rack.