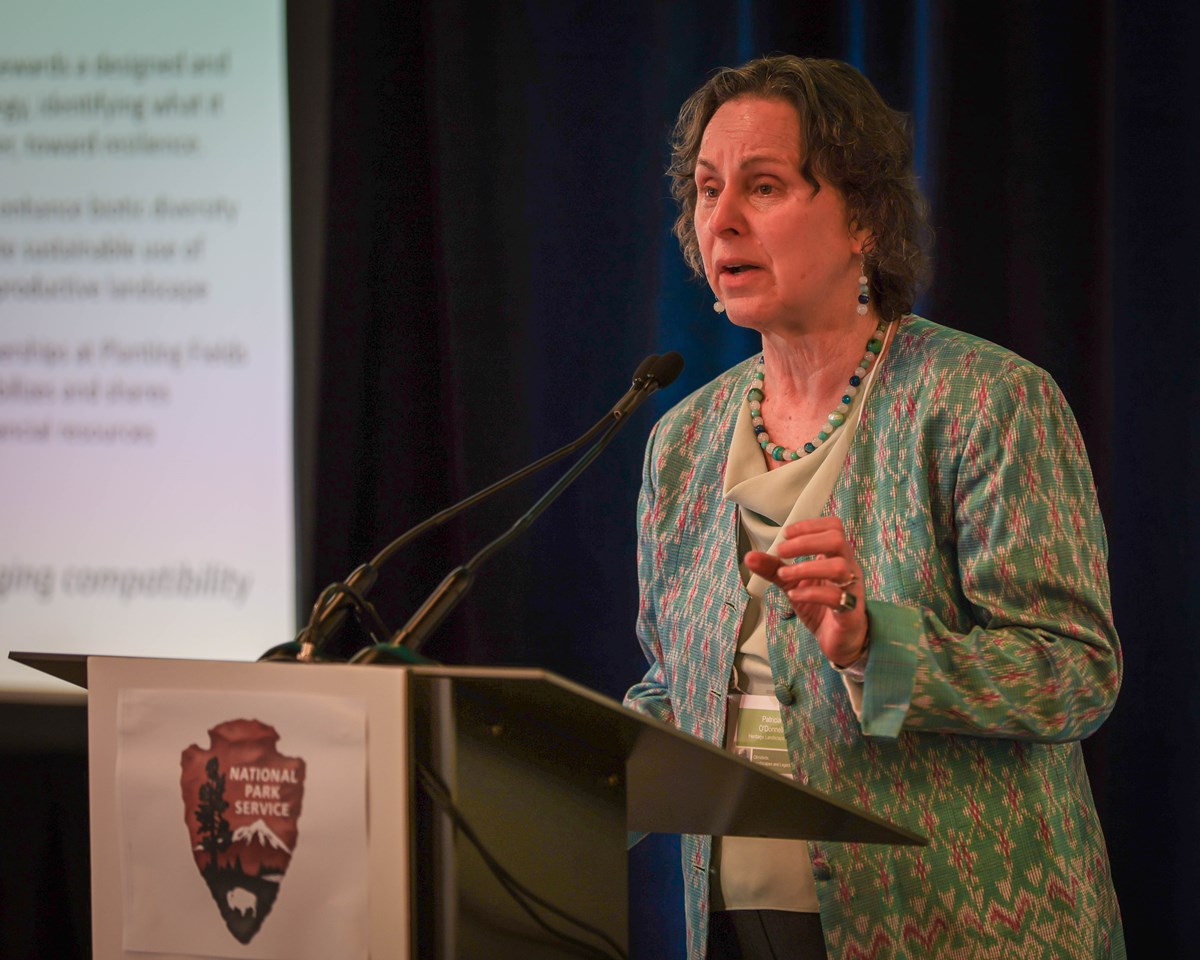 Abstract
Planting Fields holds a prominent position in the Long Island community as a place for learning and enjoyment. From 1919 to the 1950s, the Olmsted Brothers and Coe collaboration shaped a rich Olmsted design palette and horticultural richness elevating and integrating the prior design efforts. The 400-acre former estate regional state park and arboretum carries on Coe's legacy in the rich, diverse arboretum. The Planting Fields Cultural Landscape Report (PFCLR) documents this significant historic designed landscape, reveals the varied Olmstedian design concepts and their persistence or deterioration, and frames future interventions to renew the designed landscape character while enhancing access, and sustainability.
There is a widespread misconception that sustainability focuses solely on the environment. However, the three pillars of sustainability are Economy, Society and Environment, intertwined with Culture. Planting Fields, aligning to its mission, can become a robust platform for demonstrating these three facets of sustainability. It is an easy shift to see economy, society, environment, and culture as at Planting Fields these assets enable landscape heritage to drive sustainable action. Through implementation of this PFCLR integrated plan, Planting Fields is activating their potential employ resource assets to more deeply connect people to place aligning projects and management with the UN SDGs global objectives.
For the implementation of the PFCLR the main entry drive project ranked as a high priority due the diminished character of arrival, widespread losses of the historic beech allee and edge plantings, and lack of universal access, as well as changes in arrival prompted by the COVID pandemic. Research indicated that Coe planted the formal beech allee in a tight, dense pattern while the Olmsted Brothers detailed design enhancements to the plant palette and seasonal effects directly adjacent to each side of the four-tree-wide beech formal feature. During the state university and park eras, changes to the drive caused gaps in the composition, while disease vectors for European beech trees led to the demise of dozens of original trees. Thorough discussion of approaches to entry renewal engaged issues of restoration versus rehabilitation, to integrate species disease, pest and climate pressures, limited access, edge plantings character, diversity and change over time. The PFCLR committee determined that oaks would replace beech, and further that white oaks were preferred over red oaks. Detailed discussions, fields review, and preservation philosophy dialogue led to clear directions to:
Target a 50 to 100-year timeline for project lifespan

Integrate limited maintenance requirements in all decisions to reflect staff levels and skills
Spread tree spacing to foster tree longevity while providing continuity

Reverse road widenings to provide the rhythmic continuity of offset double tree rows to each side

Renewal of screen plantings to enhance biodiversity and seasonal interest

Insertion of a new visitor access path to accommodate everyone while dropping below eyeline to preserve views, employing Olmstedian grading, and choosing low maintenance and sustainable materials

Thinking through the carbon footprint of the project components toward net positive outcome
Addition of a welcoming shelter and information to enhance equity and inclusion while fostering a higher quality visit
Progress toward implementation is underway. Well-grown oak trees of two types have been secured. Inventory of edge plantings and design and materials studies are informing those aspects of the project work. This presentation will provide an up-to-date perspective and a series of best practices in historic preservation, inclusion and climate action.
Presenter Biographies
Patricia M. O'Donnell founded Heritage Landscapes LLC, Preservation Landscape Architects and Planners in 1987. She began her career with historic landscape reports for Prospect Park. She has successfully completed planning and implementation projects on over 50 Olmsted legacy landscapes. For Planting Fields, she led the collaborative, award-winning Cultural Landscape Report grounded in history while targeting improved access and social inclusion, enhanced nature and biodiversity, and maintainability, within the global UN SDGs goals and targets to act locally on universal objectives.
Gina Wouters has led the Planting Fields Foundation since January 2019 and has engaged deeply with the Olmsted Brothers designed landscape of the former Coe estate. Wouter commissioned the deeply researched Cultural Landscape Report in partnership with the Planting Fields Historic Park and Arboretum and NYS Parks. She is guiding collaborative implementation of projects to preserve and restore this important historic designed landscape. Her prior positions at Vizcaya Museum and Gardens and Cheekwood Museum and Gardens deepened her expertise in the landscape, art and architecture of Country Place Estates.