By Crystal Chen, NCRN I&M Science Communication Intern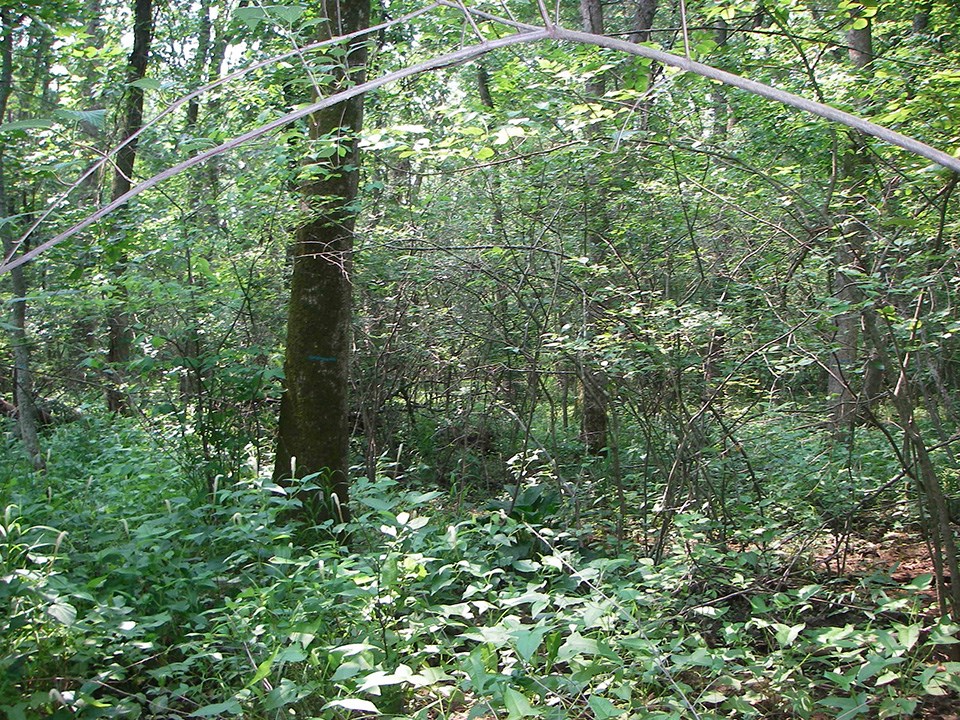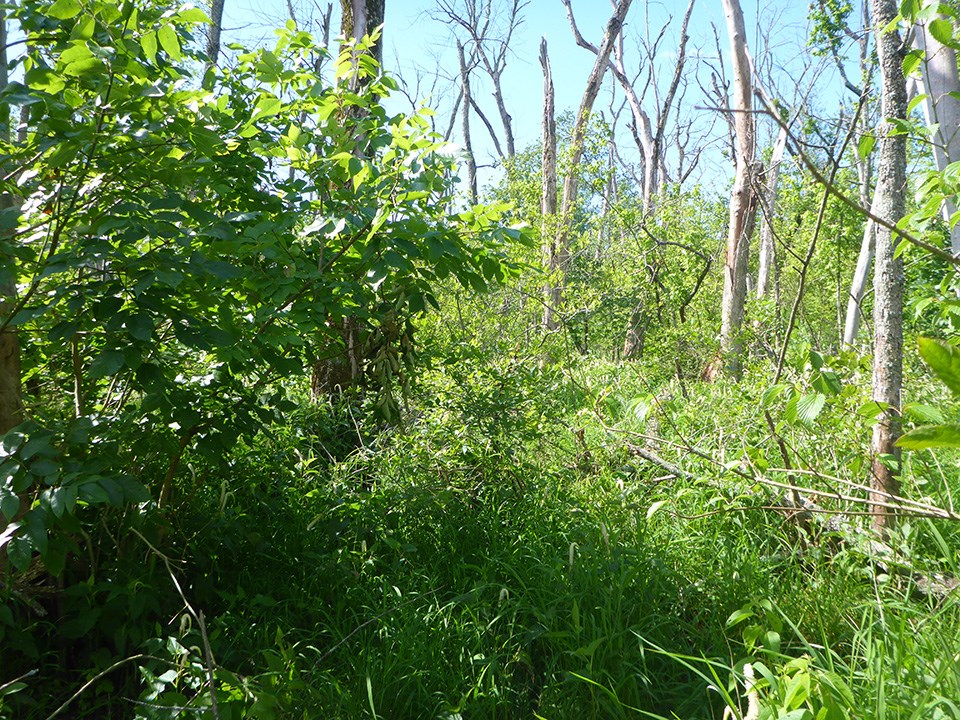 Left image
2007 (before EAB attack)
Right image
2019 (after EAB attack)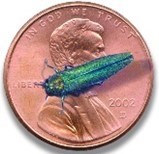 Decline of Ash Trees
Emerald Ash Borer Basics
Emerald ash borer, or EAB (Agrilus planipennis) is an invasive beetle that targets ash tree species. Evidence of EAB activity has been present in National Capital Region (NCR) parks since at least 2014. In areas of the US where the beetle has been present since the early 2000s, EAB was fatal to nearly 100% of ash trees. In NCR, results are similar, with the exception of ash-dominated swamps (regularly flooded forest wetlands).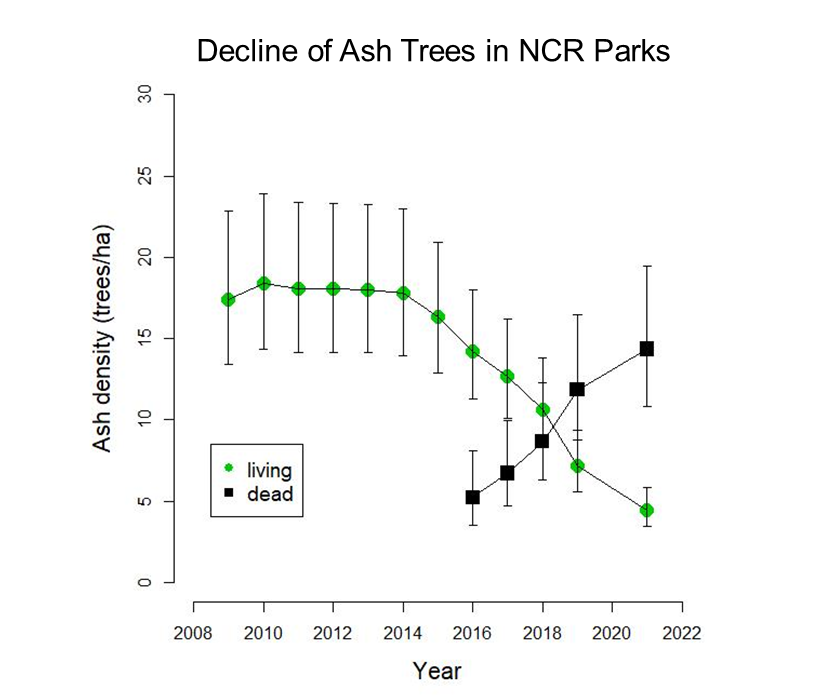 Continued Decline of Ash Trees in 2021
Now, more than ten years into the EAB invasion of NCR forests, ash tree density continues to decline (Figure 1). According to forest data collected by the National Capital Region Inventory and Monitoring Program (NCRN I&M), over 300,000 ash trees lived in NCR's national park forests before EAB's arrival. The initial spread of the beetle made for dramatic displays of ash mortality, and monitoring data from 2017-2021 indicate there are fewer than 80,000 surviving ash trees (Table 1).

Those that died continue to swell the number of standing dead trees (snags), which may be nearing their peak (Figure 1). In the next few years, these snags will decline (both literally and numerically) as they fall to the forest floor.

Table 1. Change in estimated live ash tree populations 2010-2013 to 2017-2021. Estimated error is not shown but is typically larger for parks with fewer ash or fewer plots.
Park
# Plots
Live Ash Trees
(2010-13)
Live Ash Trees
(2017-21)
Percent Change
National Capital Parks – East

48

69,000

4,000

-94

Manassas National Battlefield Park

17

49,600

3,900

-92

GW Memorial Parkway

20

56,200

10,300

-82

Antietam National Battlefield

13

3,200

700

-78

Catoctin Mountain Park

49

48,400

16,100

-67

C&O Canal National Historical Park

75

73,100

28,100

-62

Harpers Ferry National Historical Park

20

18,500

7,700

-58

Prince William Forest Park

145

7,600

3,300

-57

Wolf Trap National Park for the Performing Arts

6

120

60

-50

Monocacy National Battlefield

15

3,100

2,100

-32

Rock Creek Park

19

6,000

4,200

-30

National Capital Region TOTAL:

427

334,820

80,460

-76
Ash Seedling Increases
NCRN field crews monitor ash trees of all sizes, from seedlings to saplings to adult trees. Distribution across these size classes is changing (Figure 2). While ash sapling and tree density declined steeply, seedling density spiked. There are several possible reasons why ash seedlings increased:
Prolific seed production year(s) (i.e., a mast year).
Stressed canopy trees producing a burst of seeds before they die.
Park deer management is increasing seedling survival.
Dying canopy trees allow more sunlight to reach the seedlings on the forest floor.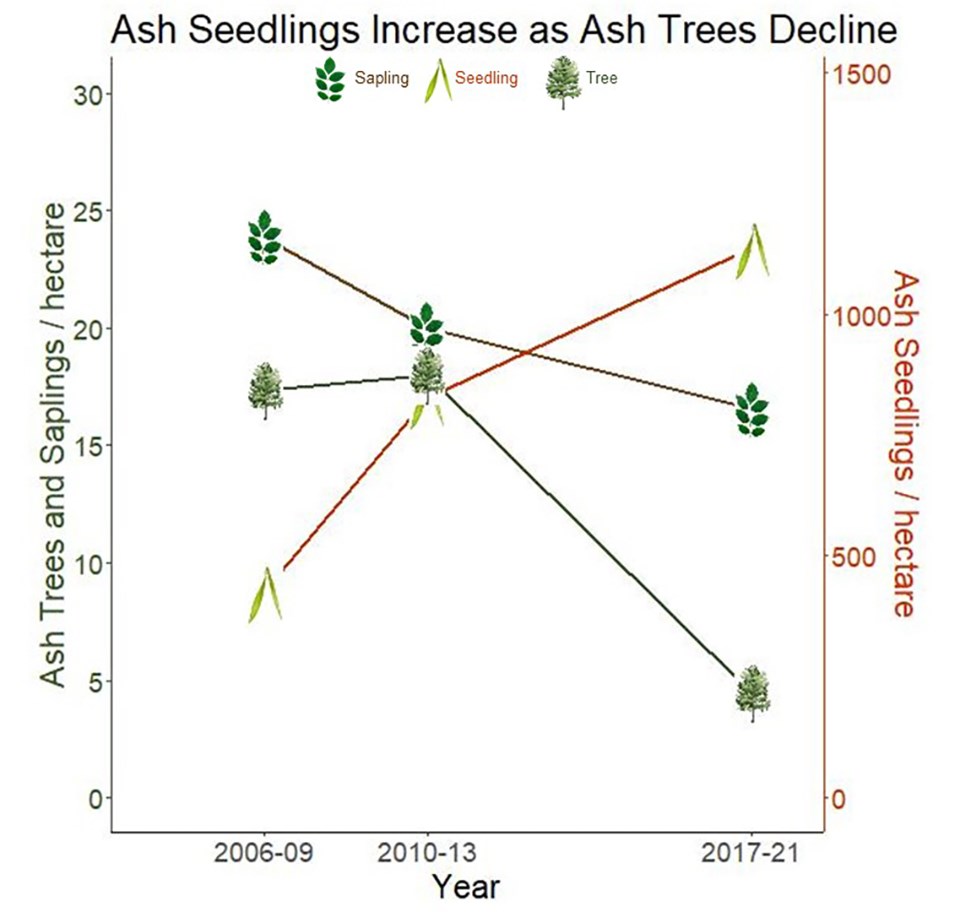 Wetland Ash Trees Become Shrubs and Other Habitat Changes
Dry and upland forests in NCR show similar responses to EAB as other infested areas of the country, with mostly white ash trees quickly dying and seedlings proliferating. However, something different is happening in the ash-dominated swamps along the Potomac River. (Swamps are forested wetlands that flood regularly.)
These swamps are part of the vital system that filters water flowing into the Chesapeake Bay. Wetland ash trees slow erosion and provide critical habitat to birds, plants, and semi-aquatic species. They also store carbon, slowing the effects of climate change, and act as a buffer zone against increasingly powerful storms. These areas are of intense importance to everyone involved in the ongoing efforts to clean up the Chesapeake Bay.
Swamps along the Potomac River (like those at Piscataway Park - pictured at top) were once dominated by pumpkin and green ash trees. These trees are "ecosystem engineers" because they modify and create wetland habitats. Ash trees can thrive where virtually no other native tree species can, withstanding twice-daily incoming tides.
When EAB hit, many feared the swamps themselves would be endangered by complete tree loss. However, some former canopy ash trees have so far survived the death of their main trunk by resprouting from living root systems and now taking a shrub-like form. Notably, pumpkin ash is the only ash species where sapling numbers increased after EAB infestation, growing from 15 saplings per hectare in 2013-2016 to 25 in 2017-2021 in these swamps. While the loss of shady canopy marks a big habitat change, there is still much to learn about these shrubby ash and their long-term fate:
Is it possible this adaptation will help wetland ash species survive?
Will these ashes cycle indefinitely as shrubs and will they flower and produce seed? Or is this a stage leading to eventual death?
How long will these ashes evade EAB attack before once again being desirable spots for EAB to lay eggs?
Why is this happening only in swamps with green and pumpkin ash but not in drier areas? Is it a characteristic of the swamp itself, or of the ash species in these habitats?
We can easily observe changes in our wetlands because they already contain fewer species. Changes in drier and more diverse ecosystems are still playing out. As we continue monitoring ash in our forests, it will be interesting to see how habitats respond and change and what that means for the other plant and animal species that live alongside ashes.