Article
Archeological Research at Fort Mose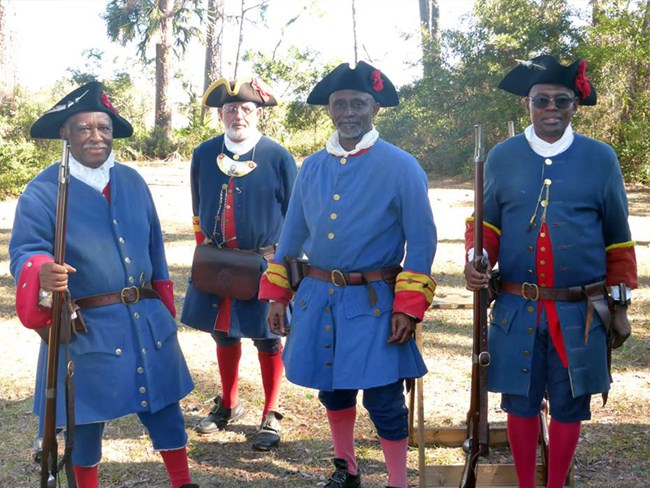 Recipient: University of Florida
Award Amount
: $148,677.82
Located in the brackish marshland north of St. Augustine, Florida, the Spanish settlement of Gracia Real de Santa Teresa de Mose was unique for its time. It was the first legally sanctioned free-Black settlement in North America, home to enslaved people willing to convert to Catholicism and fight against the English Crown in exchange for emancipation. The Spanish Governor of Florida, following the edicts of Charles II, granted these men freedom and land around Fort Mose in the effort to help defend St. Augustine. Led by a Black officer, the self-emancipated Captain Francisco Menéndez, the Fort Mose Militia fought against the forces of Governor James Oglethorpe during the English invasion of 1740, and then continued to serve until they were evacuated by the Spanish to Cuba in 1763.
In August 2021, the
American Battlefield Protection Program
awarded the Univeristy of Florida a Preservation Planning Grant to conduct archeological research at the fort. The project includes field testing to assess the integrity of the Fort Mose site and support Florida State Park's mission to tell this important story.
Preservation Planning Grants
are the American Battlefield Protection Program's broadest and most inclusive grant program, promoting the stewardship of battlefields and sites of armed conflict on American soil. In addition, the program administers three other grants: Battlefield Land Acquisition Grants, the newly authorized Battlefield Restoration and Battlefield Interpretation grant programs. This financial assistance generates community-driven stewardship of historic resources at the state, tribal and local levels.
Get Your Project Funded
Check out the American Battlefield Protection Program's website for more information about various grant offerings and eligibility.
Learn more!
Last updated: April 1, 2022