Two rangers retrieve a GPS collar from an animal in the backcountry, helping biologists learn about the animal's movements
By Josh Spice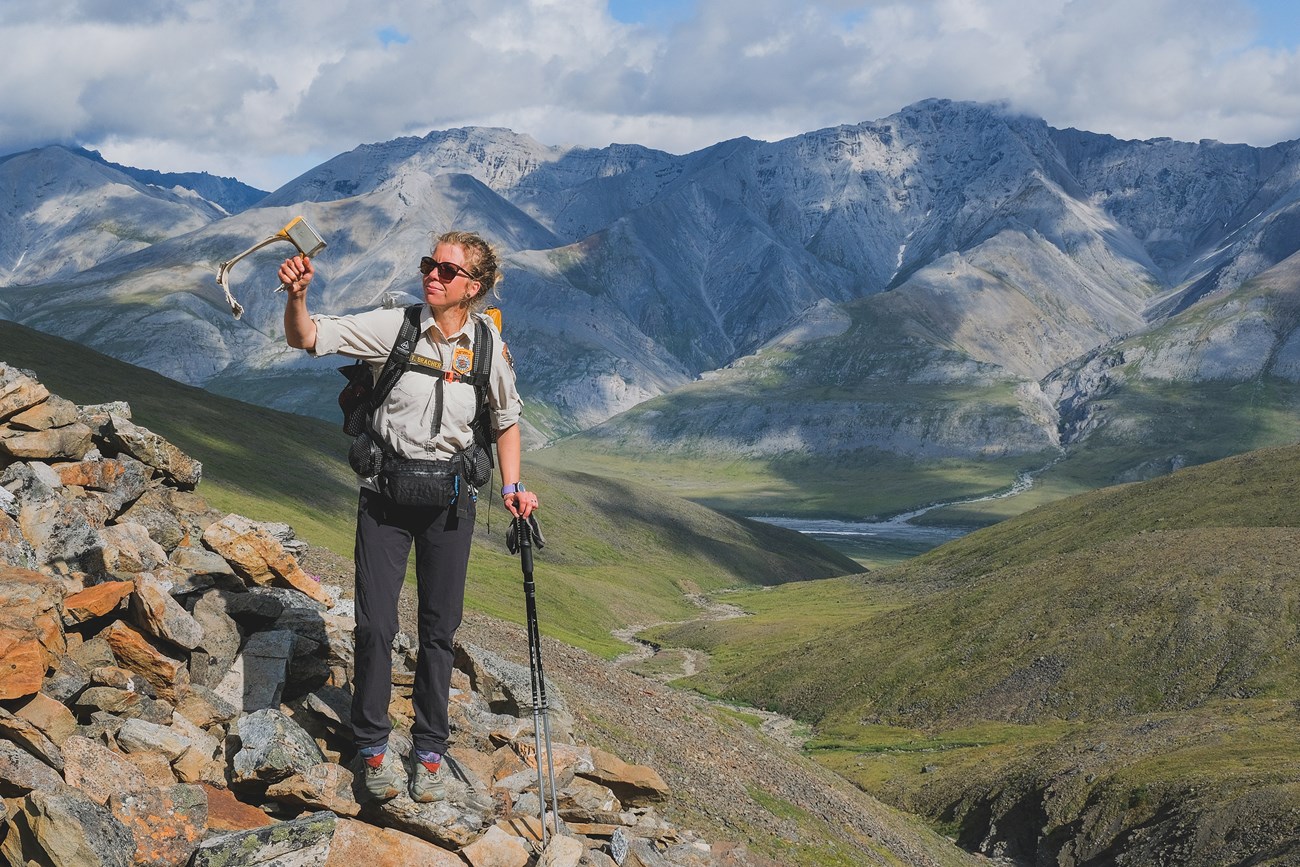 ---
Picture This
The stories behind extraordinary images and videos from the practice of park science
---
How rewarding it is to go treasure hunting, deep in the wilderness. Removing a modern tracking device from the wild landscape, returning it to its owner, and unlocking the stories it holds—that's real treasure. One task no backcountry park ranger can resist is the chance to contribute to the scientific process by finding a hidden gem in the wilderness: a GPS collar.

At Gates of the Arctic National Park and Preserve, park biologists install GPS collars on caribou and other animals. Since 2009, about 350 collars have been deployed. These collars send information about the animal's migration routes and seasonal movements through a satellite network. GPS collars also show biologists where to conduct photo-census counts to estimate the size of the herd. But far more information is stored in the collar than what is sent through the satellites during the animal's travels.

When collared animals die in wilderness areas, rangers avoid mechanized travel and retrieve the collars on foot. In this photo, Denali Backcountry Park Ranger Taylor Bracher stands high up in a drainage, north of the Continental Divide in Gates of the Arctic National Park and Preserve, holding a caribou GPS collar she retrieved. In July 2021, Taylor and I, a Gates of the Arctic park ranger, carried the collar five days through the Brooks Range to reunite it with the biologists who installed it on the caribou.

Unlocking the collar's additional data on the caribou's movements only deepened the mystery. There were more questions to be asked: Gates of the Arctic Wildlife Biologist Kyle Joly wanted to know, "Did the animal have a calf?" Analysis of the GPS movement data can reveal the answer to this and other questions.

The caribou herd's response to climate change may upend Alaska Native subsistence lifestyles, one in which the harvesting of caribou for food during certain times of the year is still vitally important. In years past, 80 percent or more of the collared caribou would migrate south for winter, but in recent years, as few as 6 percent have done so.

Rural communities target fat bull caribou in the fall as food for the winter. As migration patterns change and caribou migrate later, bull caribou are often already in rut, and the meat is considered inedible. The farther that variable caribou migrations take subsistence harvesters from remote rural communities, the more difficult it is for them to get adequate amounts of caribou for their winter food supply.

With each collar installed and returned, biologists piece together a new story. They look for answers to a puzzle without edge pieces.
---

About the author
Josh Spice is a digital media specialist and park ranger with Gates of the Arctic National Park and Preserve and Yukon-Charley Rivers National Preserve. He started as a backcountry park ranger in 2008. That job became a blend of backcountry and website management and photography. He is always looking for a way to interact with and assist visitors. Image credit: NPS / Josh Spice