Top 10 Tips for Your Best Visit This Summer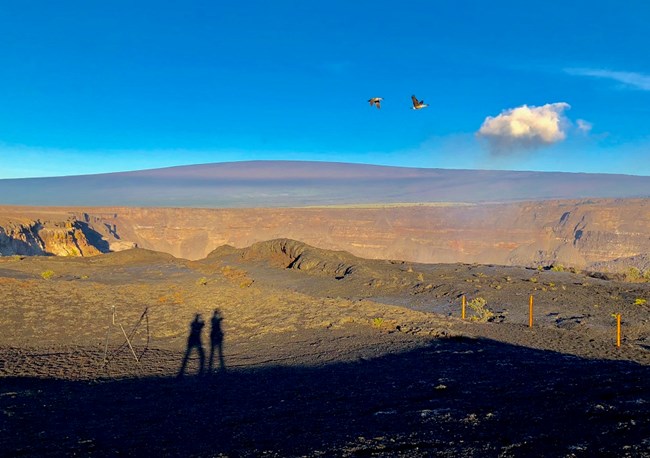 1. Make the Website Your First Stop.
"The park website,
www.nps.gov/hawaiivolcanoes
, is the inside scoop on what every visitor needs to know before they come to the park," says Park Ranger Michael Newman. "Volcano updates, things to do, temporary road closures, directions, what to wear, it's all there to help you prepare," he says. And he would know, the website is his kuleana (responsibility).
2. Arrive at Five.
"Start your visit at 5 a.m. or 5 p.m. to maximize the experience, and minimize the crowds," says Park Ranger Ben Hayes. "Start off with an unforgettable sunrise, and plan a full day ahead. A 5 p.m. arrival allows two-plus hours for hiking in the cool evening, followed by sunset," Hayes said. Your park is open 24 hours a day.
3. Walk This Way.
"Those who enjoy hiking can avoid the headache of busy parking lots on foot," says Park Ranger Olivia Crabtree, who roves park trails regularly. "Popular spots like Kīlauea Iki Overlook , Nāhuku lava tube and overlooks along Kaluapele (Kīlauea crater) can be reached from the more spacious Kīlauea Visitor Center and Devastation Trail parking lots," she said.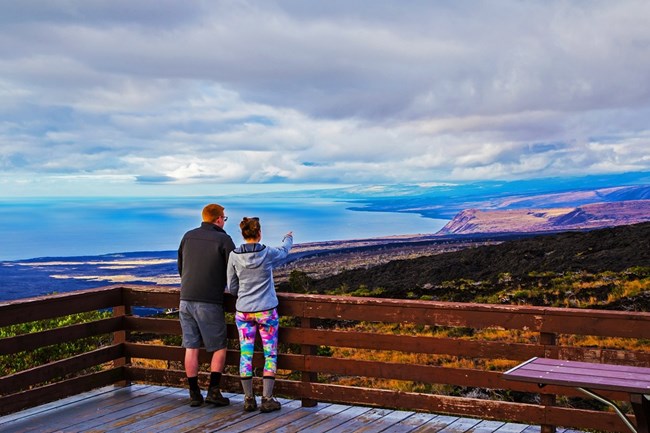 4. Tap the App.
The NPS has a free new app with tools to explore more than 400 national parks across the country, and the Hawaiʻi Volcanoes app is all that and a bag of taro chips. Self-guided tours, alerts and other valuable information is like a ranger in your pocket. You can even send a postcard without a stamp! Download in the iOS App Store and Google Play Store.
5. Follow a Chain of Craters.
"Chain of Craters Road has been covered by lava five times since it was built in 1965," said Ranger Dean Gallagher. "Today, the pullouts along the 19-mile road showcase the destructive and creative splendor of Kīlauea volcano through gaping craters and vast plains of young lava flows. For many, these flows are a physical manifestation of Pelehonuamea, the Hawaiian volcano deity," he said.
6. Contemplate Culture.
Puʻuloa Petroglyphs is a sacred site where more than 23,000 petroglyphs (images pecked into hardened lava) link the past to the present. "The images tell a story of our Hawaiian ancestors who recorded births, their travels, significant animals and other meaningful and mysterious experiences into the lava rock," says Park Ranger Jozie Acasio. "I cherish connecting with my culture at Puʻuloa," she said.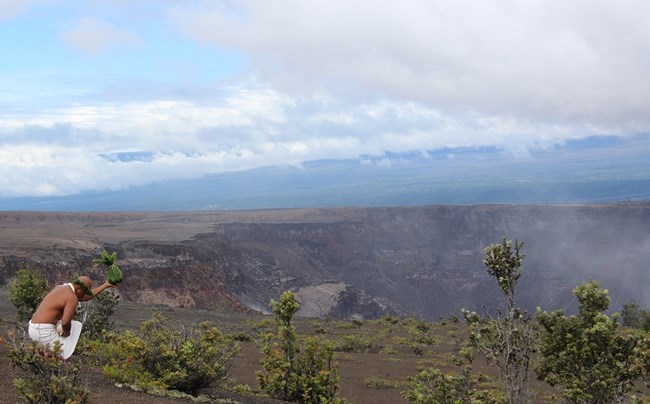 7. Visit Kahuku.
"Kahuku is all about Mauna Loa, the park's other volcano," said Park Ranger Travis Heinrich. "Entrance is free, Kahuku is never crowded, and we are open Thursday through Sunday, 8 a.m. to 4 p.m.," he said. Kahuku is located on Highway 11 near mile marker 70.5 in Ka'ū.
8. Know Before You Go.
Explore the park website, www.nps.gov/hawaiivolcanoes well before you arrive. It's has information on what to bring, information on uncrowded park areas away from the eruption site, directions, how to dress and more. It's there to help you prepare. Ranger Ben really wants you to know to avoid the peak times of sunrise and sunset and come at an unconventional times. If there is no parking, visit another area in the park and try again later. Your park is open 24 hours a day.
9. Be Respectful.
"Kīlauea and Mauna Loa are cherished by many people, including kānaka maoli, Native Hawaiians," said Park Ranger Keoni Kaholoʻaʻā. "Consider others before you take photos, or can be overheard talking on your phone. Your kōkua (care) means a lot," he said.
10. Stay Safe and Recreate Responsibly.
"Regardless whether Kīlauea is erupting or not, sinkholes, unstable cliff edges and earth cracks present hazards," said Chief Ranger Jack Corrao. "Stay on trail and do not entered closed areas, " he said.
With planning and a Plan B to navigate around summer crowds at popular sites, the informed visitor can have a great experience at Hawai'i Volcanoes National Park this summer!