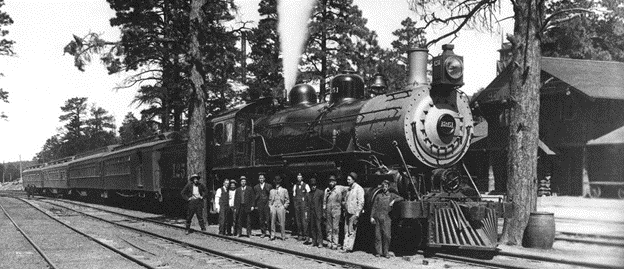 Different communities worked on the infrastructure of the Grand Canyon throughout its history, including many facilities and railways. Indigenous communities built many buildings designed by
Mary Colter
. Hopi people did most of this work and their traditional structures served as inspiration for Colter's work. As the Canyon became more popular, a railroad and buildings for tourists were put in place. Black Americans cut a lot of the lumber used for these projects from the Northern Arizona forests. Immigrant communities originally from Mexico built much of the park's infrastructure. These individuals did not just build the structures of the Grand Canyon, but they also built communities of their own.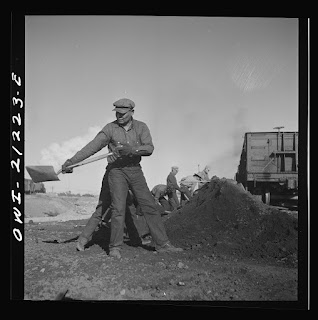 The Atchison, Topeka & Santa Fe Railway Company (AT&SF) finished the railway to Grand Canyon in 1901. AT&SF was one of many companies that built tracks across the west, connecting states through their railways.
Hispanic individuals
represented much of the workforce to build these tracks. Laborers immigrating from Mexico made up a large workforce across the country. Indigenous people, in particular individuals from the Navajo Nation, also worked on tracks. This mostly occurred throughout New Mexico, Northern Arizona, and parts of California. While AT&SF provided reliable employment, wages were low and living conditions inhumane.
Between 1919 and 1929, AT&SF Railroads needed to build more infrastructure. This was a response to the increasing number of tourists the trains were bringing to the canyon. The company contracted McKee Construction Company to oversee the project. AT&SF and McKee relied on the labor of immigrants from Mexico, but they did not provide sufficient benefits for these individuals.
AT&SF and McKee provided no housing or food, which was normally customary for rural projects of this nature. Immigrant laborers who worked on the South Rim were on their own to create a sustainable life for themselves. The National Park Service provided temporary shelter permits. The community created their own basic shelters organized in camps. Abandoned boxcars and tents often housed many Mexican laborers and their families. This community formed just south of Grand Canyon Village and was dubbed by some as, "Little Mexico."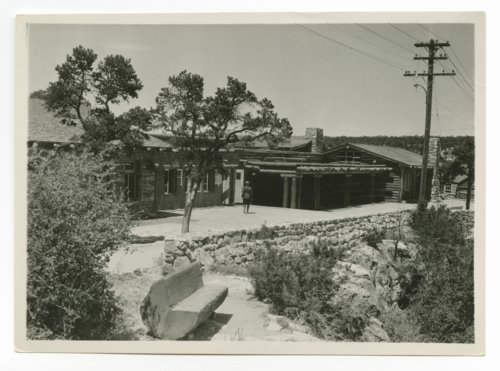 AT&SF and McKee not only did not provide housing, but they also did not offer to feed their employees. Bright Angel Camp had a lunch counter, but most Mexican laborers did not eat there. A park ranger at the time assumed that the "lower class laborers" felt it was "too expensive" or "felt out of place." The superintendent at the time wrote, "Indeed, it would not be very pleasant for the tourists stopping at Bright Angel to go into the counter and be forced to 'fall in' with a lot of Mexican laborers just off the job."1 This perspective on the social standing of Mexican immigrant laborers only exacerbated the inequality in access to housing and food.
Park staff noticed the poor treatment and living conditions of the community and tried to rectify the situation. In 1926 the Park's acting superintendent, George Bolton, wrote a letter to the AT&SF's chief engineer W.K. Etter.
Bolton said, "It seems to me personally that a contractor when he is figuring on a job in an isolated place, should take into consideration the taking care of his labor gang. . . They should take care of or provide a place where everyone that works for them can be assured food or shelter."2
In 1927 and 1928 AT&SF began building residence structures for their employees. Immigrants from Latin and South America continued to be forced into poor labor continues throughout the country. Many have fought for labor rights through the 1900s and even today. Hispanic Americans played an essential role in the labor movements in the following decades.
Despite the many challenges that Mexican laborers faced while living in Grand Canyon, many were able to form strong community bonds. The people of "Little Mexico" were able to physically create their own space at the canyon. Once they finished building infrastructure at the South Rim, it is likely that the Mexican American laborers dispersed and moved on to other employment opportunities. The construction completed by Mexican Americans at the Canyon make up the infrastructure we value today.
Sources:
1 Reid, J. Historically Under-Represented Persons or Groups in the Grand Canyon Region. Report of Findings and Research Design.
2 Ibid
Garcilazo, J. M. Traqueros : Mexican railroad workers in the United States, 1870 to 1930. (United States: UNT Press, 1995)