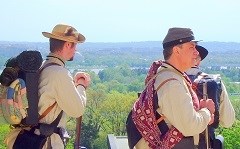 Public Transportation:
The Memorial is accessible by the Blue Line of the Metro subway system. The Arlington Cemetery subway station is near the Visitor Center for the cemetery.
Car:
Arlington House is located inside Arlington National Cemetery. From Washington DC you can drive to the cemetery by crossing the Memorial Bridge. In Virginia
Detailed driving directions can be found in the Carpooling/ Vanpooling section.
Parking:
Unauthorized vehicles cannot drive into the cemetery. Parking for Arlington House is available at the Arlington National Cemetery Visitor Center. Those with a valid disability placard will be able to ride the Arlington National Cemetery interpretive bus service at no cost (with one companion) up to the mansion. Please check refer to Arlington National Cemetery's website for more details.