Visitor Center
Park Visitor Center Closes for Rehabilitation Later This Year
The Antietam National Battlefield Visitor Center
opened to the public in the winter of 1963.
Later this year the park will close the visitor center for a much needed rehabilitation. We expect to
close late summer/early fall of 2020
. The project is expected to last from 18 months to two years. During the construction there will be a temporary visitor center installed. The temporary visitor center will have a small exhibit area, visitor information/fee collection area, bookstore, and restrooms.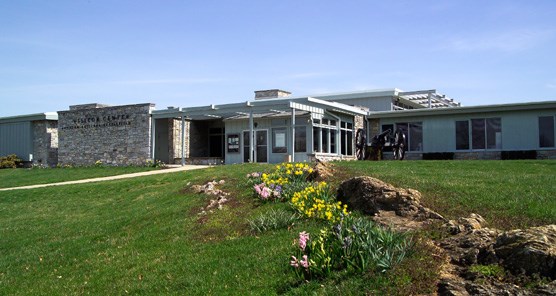 The park visitor center has a theater, exhibits, observation room, and museum store. The audiovisual program is a 26- minute orientation film narrated by James Earl Jones which is shown on the hour and the half hour. Interpretive talks are conducted daily by park rangers. During the summer season, ranger programs are expanded and scheduled more often. Check at the visitor center for a daily schedule.
Visitor Center Open 7 Days a Week from 9:00 a.m. - 5:00 p.m.
Park and Visitor Center closed Thanksgiving, December 25, and January 1.
Phone (301) 432-5124

Address: 5831 Dunker Church Rd. Sharpsburg, MD 21872

Special Programs:
Anniversary of the Battle of Antietam (Sharpsburg), September 17.
Independence Day Commemoration on the 1st Saturday in July.
Memorial Illumination on the 1st Saturday in December.


Last updated: February 18, 2020