Visitor Center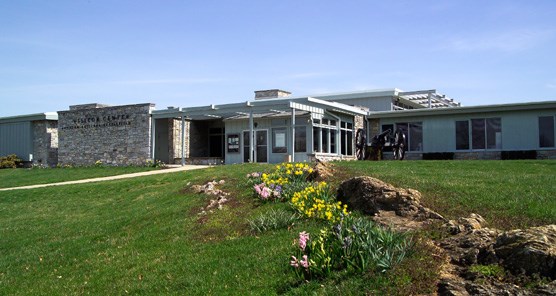 Park Visitor Center Closes for Rehabilitation This Summer
This spring, Antietam National Battlefield will begin a $6.8 million project to rehabilitate and preserve the historic visitor center, which originally
opened to the public in the winter of 1963.
We expect to
close the visitor center summer of 2021
and reopen it in late 2022.
During the construction the park will install a temporary visitor center building.
The temporary visitor center will have a small exhibit area, visitor information, fee collection area, bookstore and restrooms.
The project at the visitor center will:
Rehabilitate the visitor center's interior and exterior.
Expand the building's visitor entrance.
Increase accessibility with a new elevator and sidewalk reconfiguration.
Install solar panels to increase efficiency and sustainability.
Replace outdated mechanical, electrical and plumbing systems.
Share a more inclusive interpretive story of the park.
To learn more about the historic visitor center, visit:
https://www.nps.gov/anti/learn/historyculture/mission-66.htm
.
Project updates
The visitor center lobby, bookstore and restrooms are open at this time. The park is currently working near the visitor center is to lay power and plumbing lines for a temporary visitor center building. Beginning early April, the park will be changing the traffic pattern in the visitor center parking lot from two-way to one-way traffic and adding additional vehicle and pedestrian wayfinding signage for visitor safety.
Visitor center information
Visitor Center Open 7 Days a Week from 9:00 a.m. - 4:00 p.m.
Park and Visitor Center closed Thanksgiving, December 25, and January 1.
Phone (301) 432-5124
Address: 5831 Dunker Church Rd. Sharpsburg, MD 21872


Last updated: April 2, 2021