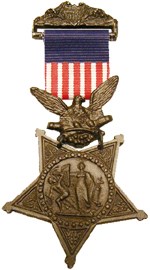 Created in the Civil War
A Navy version of the Medal of Honor was the first to be approved by President Lincoln on December 21, 1861. At the time it was the first and only decoration formally authorized by the American Government to be worn as a badge of honor. The Army's version was approved the next year for enlisted men and then amended to also include officers who "shall most distinguish themselves by their gallantry in action and other soldier-like qualities."
A total of 1,520 Medals were awarded during the Civil War. Twenty men received Medals for their gallantry on the Battlefield at Antietam. Eight of the twenty men were awarded the Medal for either capturing or saving flags.
In 1916 a board of five retired General Officers was appointed to investigate the validity of all the Medals which had been awarded. 911 names were stricken from the list, most from the Civil War. The majority of those were from the 27th Maine Infantry who in June of 1863, a critical time of the war, received Medals of Honor just for re-enlisting.