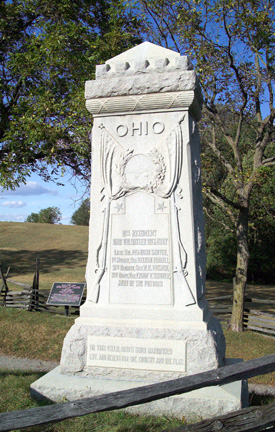 Monument Text:
OHIO
8th Regiment
Ohio Volunteer Infantry
Lieut. Col. Franklin Sawyer
1st Brigade Gen. Nathan Kimball
3rd Division Gen. W. H. French
2nd Corps, Gen. Edwin V. Sumner
Army of the Potomac
On this field Ohio's sons sacrificed life and health for one country and one flag.
September 17, 1862 forded Antietam Creek waist deep, formed line of battle South of the Roulette buildings, in orchard, took crest of hill at the point of the bayonet; held position four hours; supplies exhausted; ammunition and muskets from dead and wounded; charged "Bloody Lane" captured about 300 prisoners; number engaged 341; Losses in killed and wounded 162.