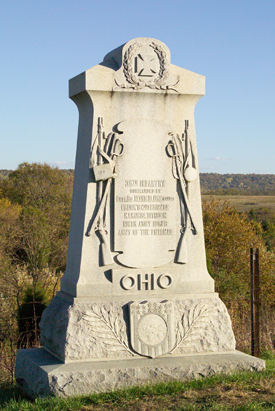 36th Infantry
Commanded by
Lieut. Col. Melvin Clarke (Killed)
Crook's (2d) Brigade
Kanawha Division
Ninth Army Corps
Army of the Potomac
OHIO
This Regiment advanced near the Bridge over Antietam Creek on the morning of September 17, 1862, supporting Sturgis' Division. It participated in the charge by which the Bridge was captured. Lieut. Col. Melvin Clarke was killed near this spot.

Its loss was 1 officer and 1 man killed; 21 men wounded; 2 men missing. Total 25.