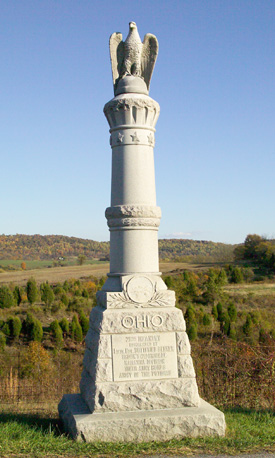 Monument Text:
OHIO
28th Infantry
Commanded by
Lieut. Col. Gottsfried Becker
Crooks (2d) Brigade
Kanawha Division
Ninth Army Corps
Army of the Potomac
This Regiment was conducted by Gen. Crook on a reconnoissance above the Bridge over Antietam Creek on the morning of Sept. 17, 1862, and 5 companies succeeded in crossing the Creek before the capture of the bridge; it then formed part of the forces that charged and drove the enemy from the creek.
Its loss was 2 men killed; 19 men wounded; total 21.