11th Ohio Volunteer Infantry Monument
Dedicated: 1903

Location: Approximately 150 yards East of Branch Avenue on South end of the Battlefield

Map Number: 82

View the Monument Map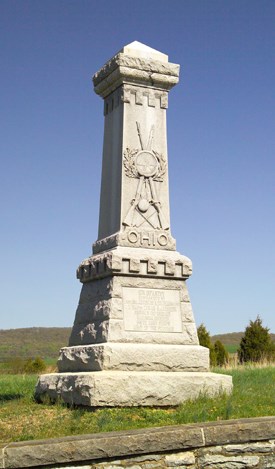 Monument Text:
OHIO
11th Infantry
Commanded by
Lieut. Col. Augustus H. Coleman (Killed)
Maj. Lyman Jackson
Crook's Second Brigade
Kanawha Division
Ninth Army Corps
Army of the Potomac
This Regiment advanced in skirmish line toward the bridge over the Antietam Creek, participated in the charge which drove the enemy from the creek and advanced to this point which it held until the close of the day. Its loss was 1 officer and 3 men killed; 1 officer and 11 men wounded; 5 men missing, total 21.


Last updated: January 21, 2020