Irish Brigade Monument
29th Massachusetts Infantry, 63rd New York Infantry 69th New York Infantry, 88th New York Infantry
Dedicated: October 25, 1997

Location: Base of the Tower at Bloody Lane

Map Number: 61

View the Monument Map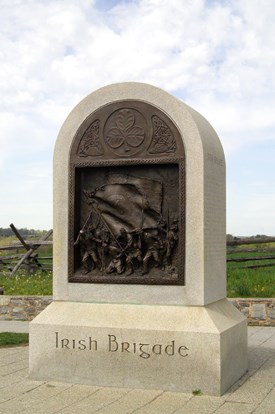 Monument Text:
IRISH BRIGADE
Formed in November 1861, the Brigade was largely recruited in New York, Massachusetts and Pennsylvania. Its initial regiments were the 69th, 88th and 63rd New York State Volunteers. Other units identified as part of the Brigade included the 29th Massachusetts, 116th Pennsylvania and 25th Massachusetts Volunteer Infantry Regiments. The Brigade fought in all of the major campaigns of the Army of the Potomac. It lost over 4,000 men during the war. This total is larger than the number of soldiers who served in the Brigade at any single time. Eleven Brigade members were awarded the Congressional Medal of Honor. Of the Five Officers who commanded the Brigade, three were killed or mortally wounded. Colonel Richard Byrnes (Cold Harbor), Colonel Patrick Kelly (Petersburg), and Brigadier General Thomas A. Smyth (Farmville). The Brigade was mustered out in June 1865.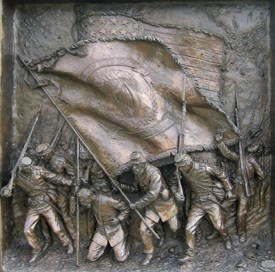 IRISH BRIGADE AT ANTIETAM
Second Brigade, First Division Second Corps, Army of the Potomac On 17, September 1862, the Brigade crossed Antietam Creek (9:30 a.m.) at Pry's Ford. As it formed at the edge of a cornfield Father William Corby, Chaplain rode along the line, giving absolution to the soldiers. The 69th New York occupied the right then the 29th Massachusetts, the 63rd and 88th New York crossing the cornfield, the command encountered a rail fence which was torn down under severe fire an opposing Confederate column advanced within 300 paces of the brigade . After several volleys, the Irish Brigade charged with fixed bayonets. At 30 paces it poured buck and ball into General George B. Anderson's Brigade (2nd, 4th, 14th and 30th North Carolina Infantry Regiments) which fell back to "Bloody Lane". After fierce combat its ammunition exhausted the Irish Brigade was relieved.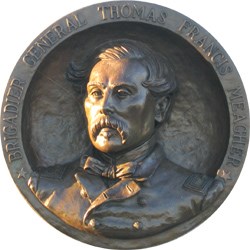 BRIGADIER GENERAL THOMAS FRANCIS MEAGHER
The Irish Brigade commander was born in Waterford City Ireland on 23 August 1823, a well educated orator, he joined the young Ireland movement to liberate his nation. This led to his exile to a British Penal Colony in Tasmania Australia in 1849. He escaped to the United States in 1853 and became an American citizen. When the Civil War broke out he raised Company K, Irish Zouaves, for the 69th New York State Militia Regiment which fought at First Bull Run under Colonel Michael Corcoran. Subsequently Meagher raised the Irish Brigade and commanded it from 3 February 1862 to 14 May 1863. He later commanded a military district in Tennessee. After the War Meagher became Secretary and Acting Governor of the Montana Territory. He drowned in the Missouri River near Fort Benton on 1 July 1867. His body was never recovered.


The Irish Brigade Losses Were


Killed


Wounded


Missing


Total


69th New York





Officers








4








6










10










Enlisted Men








40








146










186





88th New York





Officers








2








2










4










Enlisted Men








25








73










98





63rd New York





Officers








4








5










9








Enlisted Men








31








160








2








193



29th Massachusetts





Officers
















Enlisted Men








7








29








3








39








Staff Officers










1










1








Enlisted Men
















Total








113








422








5








540





Last updated: January 19, 2020