34th New York Infantry Monument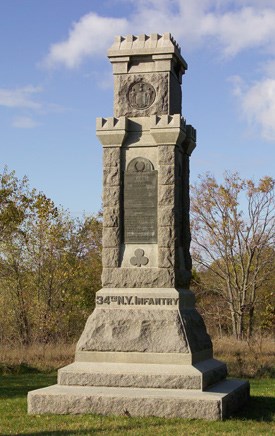 Monument Text:
THIRTY-FOURTH REGIMENT N.Y.S.V.
Col. James A. Suiter
Commanding
Enlisted under President Lincoln's Call, issued April 15, 1861, for 75,000 men, to serve two years. Mustered into the State service May 1, 1861 Mustered into the United States service June 15, 1861 Mustered out June 30, 1863 First Brigade Second Division Second Corps The surviving members of the Regiment, aided by the County of Herkimer, and the State of New York, have erected this monument, to the memory of the gallant men who fell on this and other Historic fields. The dead on this field were 43 and the wounded 74.
At 7:30 on the morning of September 17, 1862, the Thirty-fourth Regiment left camp near Keedysville, crossed the Antietam Creek and marched westward into the East Woods, now extinct. Facing Westward being on the extreme left of Brigade line it emerged from the East Woods and soon became heavily engaged with the Confederate forces in its front. Crossing the open field and the Hagerstown Pike, it entered the West Woods, now also extinct, the line extending North and South of the Dunkard Church. The left of the Regiment being unprotected was in danger of being enveloped by the enemy, and a hasty retreat became necessary; the Regiment reforming near the East Woods with its organization intact. In a very brief time 43 men had been killed and 74 wounded, the killed being 13 percent of all engaged.

Composition of the Regiment at the time of this Battle

Colonel

James A. Suiter

Lieutenant Colonel

Byron Laflin

Major

John Beverly

Adjutant

George W. Thompson

Quartermaster

Nathan Easterbrook, Jr.

Surgeon

Socretes N. Sherman

Asst. Surgeon

Edward S. Walker

Chaplain

John B. Van Petten
| | | |
| --- | --- | --- |
| Co. | Captain | County |
| "A" | Benjamin H. Warford | Albany |
| "B" | Wells Sponable | Herkimer |
| "C" | Thomas Corcoran | Herkimer |
| "D" | John A. Scott | Clinton |
| "E" | Henry Baldwin | Steuben |
| "F" | Charles Riley | Herkimer |
| "G" | Joy E. Johnson | Herkimer |
| "H" | Samuel P. Butler | Essex |
| "I" | William H. King | Steuben |
| "K" | Emerson S. Northrup | Herkimer |


Last updated: April 10, 2015