New Jersey State Monument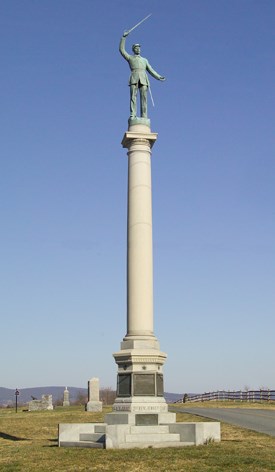 Monument Text:
Thirteenth New Jersey Infantry
Colonel Ezra A. Carman, Commanding
Third Brigade, First Division Twelfth Corps.
Here this Regiment, seventeen days after leaving home, met "its Baptism of fire", September 17, 1862. The first to fall was Captain Hugh C. Irish, later in the day the regiment was heavily engaged in rear of the Dunkard Church, its loss during the day was 102, in the army of the Potomac, and afterwards with General Sherman's Army, the Regiment served until the close of the war.

---
First New Jersey Infantry
Lieut. Col. Mark W. Collett, Commanding
First Brigade, First Division Sixth Corps.
The 1st, 2nd, 3rd and 4th New Jersey Infantry and Hexamer's Battery A, were known as the "First New Jersey Brigade". These were the first three year Volunteers from the State. After serving through the peninsula campaign the Brigade on Sept. 14, 1862 performed such gallant service at Crampton's Pass as to call forth the High Commendation reproduced on the next tablet.
---
Second New Jersey Infantry
Colonel Samuel L. Buck, Commanding
First Brigade, First Division Sixth Corps.
Headquarters, 1st, Brigade, 1st Division Sixth
Corps, Camp in Crampton's Pass Maryland
Sept. 15, 1862. General Orders Soldiers of the
first New Jersey Brigade.
The 14th of September, 1862, is one long to be remembered, for on that day you dashingly met and drove the enemy at every point, your advance in line of battle, under a galling Artillery fire was a feat seldom if ever surpassed. The Heights you took show plainly what determined and well disciplined soldiers can do.
---
Third New Jersey Infantry
Colonel Henry W. Brown, Commanding,
First Brigade, First Division Sixth Corps
"You have sustained the reputation of your state and done credit to your officers and yourselves. While we lament the death of our brave comrades who have fallen so gloriously we can only command their souls to God and their sorrowing friend to his sure protection. May you go from Victory to Victory, is the hope and wish of the Colonel commanding Brigade". A.T.A. Tolbert Colonel Commanding
---
4th New Jersey Infantry "
Colonel William B. Hatch, Commanding
First Brigade, First Division, Sixth Corps.
From its Bivouac at Crampton's Pass the first New Jersey Brigade marched to the field on the morning of September 17, 1862, and took position 600 yards, easterly of this point near the Dunkard Church, where it remained until Sept. 19. It supported the sixth Corps Artillery and for six hours was under severe Artillery fire by which several men were killed or wounded.
---
Battery A. First New Jersey Artillery
Captain William Hexamer, Commanding
First Brigade, First Division Sixth Corps
After engagement at Crampton's Pass Sept. 14, 1862, the Battery was engaged on Sept. 17, at three different points on this field. From three to six o'clock the Battery fired 280 shells, 200 shrapnel and 15 canisters, forcing out of position two Confederate Batteries and repelling an Infantry force.




Last updated: June 9, 2020