Monument to William McKinley
Dedicated: October 13, 1903
Location: Just South of Burnside Bridge parking area
Map Number: 95
View the Monument Map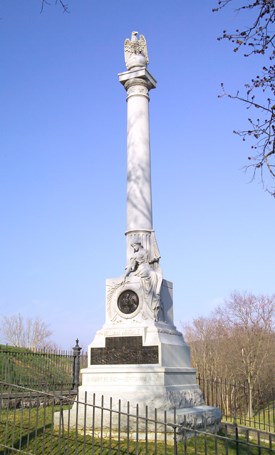 Monument Text:
WILLIAM McKINLEY
January 29, 1843 - September 14, 1901
Fourteen Years Member of Congress
Twice Governor of Ohio 1892-3 and 1894-5
Twice President of United States 1897 - 1900 and 1901
Sergeant McKinley Co. E. 23rd Ohio Vol. Infantry, while in charge of the Commissary Department, on the afternoon of the day of the Battle of Antietam, September 17, 1862, personally and without orders served hot coffee and warm food to every man in the regiment, on this spot and in doing so had to pass under fire.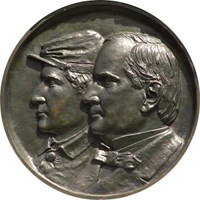 Ohioan William McKinley survived the Civil War, only to be killed by an assassin's bullet while serving as the nation's 25th President.

Sergeant McKinley was a Commissary Sergeant with the 23rd Ohio of Colonel Hugh Ewing's Brigade. During the battle, Sergeant McKinley bravely served the soldiers in his regiment. Another U.S. President from the same Civil War regiment, Rutherford B. Hayes said that, "Early in the afternoon, naturally enough, with the exertion required of the men, they were famished and thirsty, and to some extent broken in spirit. The commissary department of that brigade was under Sergeant McKinley's administration and personal supervision. From his hands every man in the regiment was served with hot coffee and warm meats.... He passed under fire and delivered, with his own hands, these things, so essential for the men for whom he was laboring."

After the war, McKinley served as a Congressman and Governor of Ohio. He was twice elected as President before he was shot by anarchist Leon Czolgosz at the Pan-American Exposition in Buffalo, New York. Shot on September 6, 1901, the President held on for eight days before succumbing to his wound on September 14th. This monument was dedicated in his memory two years later on October 13, 1903.
Last updated: January 27, 2020