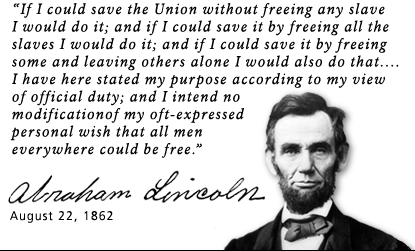 As the glowing sun set over the bloody fields of Antietam, the Civil War became a different war. Five days after the battle, armed with pen and paper, Abraham Lincoln changed the war when he issued the Emancipation Proclamation.
The proclamation reflected Lincoln's new way of thinking about the conflict. Until this time, it was seen as a rebellion, a fight to preserve the Union without touching slavery. Now Lincoln was threatening to crush the Confederacy by destroying slavery, the basis of its economy and society. Now the North was waging a moral crusade to free the slaves.
While the Emancipation Proclamation reflected Lincoln's high-minded morality, the president was under great pressure to act. Congress was urging emancipation. Escaped slaves were fleeing to the Union army as it advanced in the South, complicating military operations. And the enlistment of black Americans as soldiers could give the Union's ailing war machine a much-needed boost.