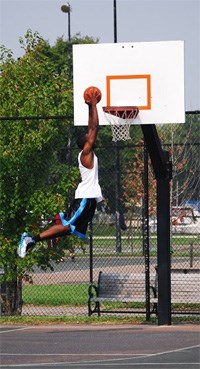 There's room to play here at Anacostia Park! Whether you want to shoot hoops, play tennis, or use the playing fields, you'll find it all.
Basketball
3 full size courts and 2 half courts are next to the skating pavilion at 1500 Anacostia Ave. SE
2 full size courts are at Anacostia Ave. NE & Benning Road NE.
Tennis
Nine courts are at 1800 Anacostia Drive SE, next to the swimming pool.
Two courts are at Anacostia Ave. NE & Benning Road NE
Soccer
Anacostia Drive SE & Good Hope Rd. SE
Next to the swimming pool at 1800 Anacostia Drive SE