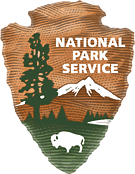 Other Nearby National Park Service Areas
Johnstown Flood National Memorial
There was no larger news story in the latter nineteenth century after the assassination of Abraham Lincoln. The story of the Johnstown Flood has everything to interest the modern mind: a wealthy resort, an intense storm, an unfortunate failure of a dam, the destruction of a working class city and an inspiring relief effort.
Flight 93 National Memorial
On Tuesday morning, September 11, 2001, the U.S. came under attack when four commercial airliners were hijacked and used to strike targets on the ground. Nearly 3,000 people tragically lost their lives. Because of the actions of the 40 passengers and crew aboard one of the planes, Flight 93, the attack on the nation's capital was thwarted.
Fort Necessity National Battlefield
The battle at Fort Necessity in the summer of 1754 was the opening action of the French and Indian War. This war was a clash of British, French and American Indian cultures. It ended with the removal of French power from North America. The stage was set for the American Revolution.
Friendship Hill National Historic Site
Albert Gallatin is best remembered for his thirteen year tenure as Secretary of the Treasury during the Jefferson and Madison administrations. In that time he reduced the national debt, purchased the Louisiana Territory and funded the Lewis & Clark exploration. Gallatin's accomplishments and contributions are highlighted at Friendship Hill, his restored country estate.
Rivers of Steel National Heritage Area
The Rivers of Steel National Heritage Area reveals how one region, in a sustained and thunderous blast of innovation, ambition and fire, forever changed America and its place in the world. It is the story of the industrialists and the workers who pushed an infant industry to it ultimate limits and in doing so pushed the world into the Age of Steel.