The Skew Arch Bridge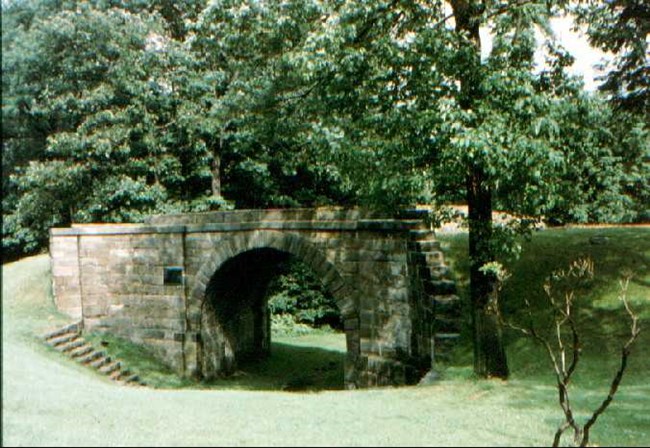 The Allegheny Portage Railroad was constructed as a part of the Pennsylvania Main Line Canal System. It consisted of a series of 10 inclined planes and connecting levels that were used to transport railroad cars and canal boats over the Allegheny Mountains between Hollidaysburg and Johnstown, a distance of 36.65 miles. The railroad was considered a major engineering accomplishment in its time and included the first railroad tunnel constructed in the United States.

As technology grows and changes workers and resources must bend around new ideas and challenges. This same competition is seen in the story of the Skew Arch Bridge at Allegheny Portage Railroad National Historic Site.
On July 15, 1832, J. Fenlon, A. and J. Darlin, and R. Kininmouth won the contract to build " A Stone Bridge which will be require for the passage of the Turnpike road over the Rail Way on Section No. 36 of the Portage." The bridge was to be built according to specifications attached to and considered part of the contract.
The bridge design was changed in 1833 to accommodate a bend in the Huntington, Cambria and Indiana Turnpike road, hence the skewed arch. The construction journal duly noted on May 21, 1833, the expense of "Taking up & relaying masonry in consequence of alteration in place."
The skew arch is 60 feet 5 inches long on the south elevation, 54 feet 11 inches long on the north elevation, and 22 feet 2 inches high. Broken stone and stone sleepers taken from a section of the railroad were perched, fitted, and laid diagonally by hand without mortar.
The top of the bridge was not tilted but the arch's imposts were offset and constructed directly across from each other. Rectangular stones were cut into an L shape and were placed to reinforce the external corners of the pilasters and walls. No historic specifications or drawings have been found.
The Skew Arch Bridge was the only road bridge purposely built along the portage. In 1979 the bridge was stabilized and repaired. Nearly the bridge's entire exterior has been repointed. Limited sealing was done and some of the facade was mortared.

The continued existence of the Skew Arch Bridge is a testimony to compromise and competition. It tells the story of how two or more transportation systems can accommodate each other even as one may be slowly replacing the other. The story of the bridge is not only the story of the Allegheny Portage Railroad, but also the story of the changing views of efficiency and conservation.
Last updated: March 21, 2022