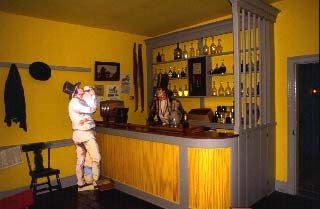 Information on this page from The Lemon House Historic Furnishings Report by William L. Brown, III, US Department of the Interior, National Park Service.

Bar Room
This was not a place to eat, but a place where men could ignore the social graces and parlor mores of the period. The other rooms required men and women to act like gentlemen and ladies. In general, ladies of higher social standing did not go into barrooms.

The barroom is furnished both in reproduction furniture and period pieces. The period pieces are mainly glassware and related bar items. The most important source for refurbishing the barroom is the watercolor illustration Country Inn painted by August Koller in 1840. This watercolor seems to have been done in western Pennsylvania in 1840, although it was not identified so by the artist. The arrangement and acquision of items for the Lemon House barroom is based greatly on this painting.