Allegheny Portage Railroad 181st Anniversary Year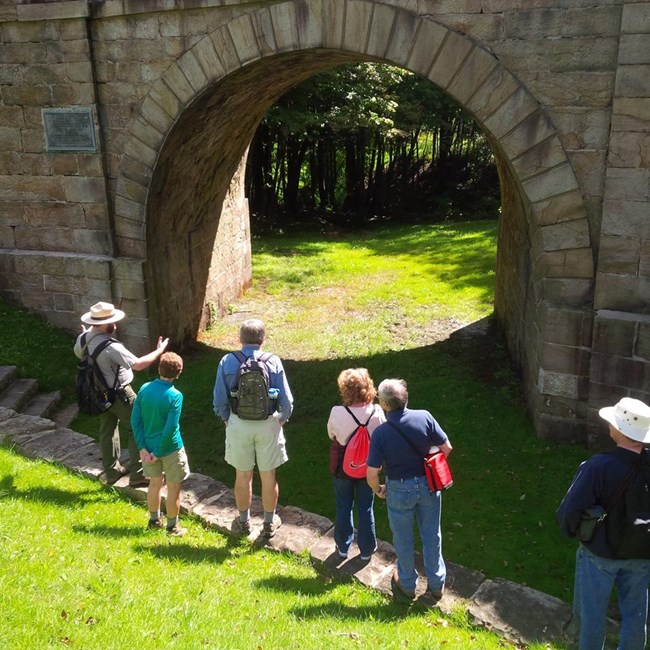 The Allegheny Portage Railroad, as one of the five divisions of the Pennsylvania Main Line Canal, officially opened for business on March 18, 1834, making 2015 the 181st anniversary year. As usual, Allegheny Portage Railroad National Historic Site has lots of great events for you to participate in this year. For a complete list of 2015 events, click on this link for the 2015 Schedule of Events. NOTE: The schedule also includes information for our sister National Park, Johnstown Flood National Memorial.
Some events REQUIRE RESERVATIONS. For more information and/or to make reservations please call the park at (814) 886-6150.
181st Anniversary Hike-Saturday, March 21, 2015:
Join us as we commemorate the 181st Anniversary of the opening of the Allegheny Portage Railroad on this Park Ranger-guided hike. The hike begins at 1:00 pm. We will be hiking from the Summit Level Visitor Center, down Inclined Plane No. 6, to the Skew Arch Bridge, and back. The hike will be about 1.5 miles long and take about 2-2.5 hours to complete. Please dress appropriately and wear the proper footwear for a hike on Cresson Mountain in March. The hike is limited to 25. RESERVATIONS REQUIRED.
Daily Historic Programs-Monday, June 1-Sunday, September 27, 2015:
We offer a variety of daily Park Ranger programs all summer long. These include Lemon House tours, spinning & weaving, stonecutting, log hewing, rope making, and Park Ranger talks & walks, just to name a few. Programs vary from day to day depending on available staff. Weather is also a factor since many programs are conducted outside. These programs are included in the park entrance fee. Please check in the Summit Level Visitor Center to see what is being offered at the time of your visit.
Evening on the Summit Programs:
Throughout the summer we feature a series of Saturday evening speakers and concerts. Concerts are held in the park amphitheater and there is a $2.00 fee/person. Speakers are usually in the Summit Level Visitor Center and are free!
June 6-Concert by Matthew Dodd-Songs and Stories of Old Canal Days
June 20-Park Ranger Doug Bosley-What was carried on the Mainline Canal? (this speaker presentation will be held in the park amphitheater)
July 25-Concert by Full Kilt-Twist yer Kilt Celtic Rock
August 1-Park Ranger Nathan Koozer-You Can't Get There From Here
August 15-Concert by The Michael O'Brian Band-World Famous Blitzin' Gallitzin Irish
August 22-Concert by Simple Gifts-A Collage of Folk Music
September 5-Dr. Martin Riche-Enjoying the Night Sky
Allegheny Portage Railroad Van Tours:
Join a Park Ranger on a guided van tour of the entire route of the Allegheny Portage Railroad from Hollidaysburg to Johnstown. Tour participants will meet at the Summit Level Visitor Center. Tours begin at 1:00 pm. Tours are free, but RESERVATIONS ARE REQUIRED. There is a limit of 12 passengers per van tour. Tours will be held the following Saturdays: June 13, July 11, July 25, August 8, August 22, and September 19.
Allegheny Portage Railroad Heritage Hikes:
Join a Park Ranger on various Heritage Hikes. All hikes are free and RESERVATIONS ARE REQUIRED. Hikes will be held on the following Sundays:
June 21-Johnstown Canal Basin Walk
June 28-Inclines 6 to 10 Hike
July 19-Lower Trail Bike Tour-Williamsburg
August 2-Staple Bend Tunnel Hike
August 16-Summit Level Hike
August 23-West Penn Trail Bike Tour-Saltsburg
September 6-Inclines 6 to 10 Hike
September 27-Hollidaysburg Canal Basin Walk
Saturday, June 27-Living History Day:
This all day, family-friendly, living history event has lots to offer people of all ages! There will be children's activities and special guided tours of the Lemon House. The following demonstrations will be offered: stone-cutting, log-hewing, rope-making, farm-to-factory, and more. The 2nd Pennsylvania, Company B-American Highlanders from the Mexican War (1846-1848) will tell their stories and perform black powder demonstrations at designated points throughout the day. As you can see, it will be a full day, so come and join the fun! No reservations required. All activities are included in the park entrance fee.
October Spirit Tours:
The following family-friendly Spirit tours will be held on Saturdays in October. RESERVATIONS ARE REQUIRED. There is a fee of $2.00/per person.
October 10-Spirit on the Summit Tours
October 31-Spirits of the Staple Bend Tunnel

Last updated: May 7, 2018