Comanches (1700 AD to 1874 AD)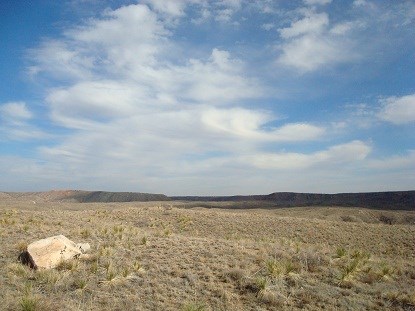 The Comanches ruled the Plains from the early 1700s until the 1870s. The Comanches excelled with the introduction of the horse, and quickly became a powerful force. The Comanches were the first Plains Indians to conduct warfare from the back of a horse, which gave them speed, maneuvering abilities, and other tactical advantages. A Comanche warrior could ride a horse bareback while leaning over one side shooting arrows, and could pick a grown man off the ground while riding at full speed. The Comanches were expert horse-breeders, and both men and women were accomplished riders.
Texas joined the United States on December 29, 1845. While the present-day Alibates Flint Quarries National Monument's land was technically under control of the U.S. Government, the Comanches ruled the Llano Estacado until the mid 1870s. The U.S. Army was unable to remove the Comanches from the Texas Panhandle until most of the buffalo had been slaughtered en masse by American buffalo hunters. The Plains Indians had depended on the bison; with its near-extinction, the Comanches faced starvation. They joined other tribes on reservations in Oklahoma, and another group of people moved into the Texas Panhandle - Anglo American settlers.
Last updated: January 12, 2016