Plan Your Visit
The park is located on Amaknak Island in the Aleutian Island chain, 800 miles west of Anchorage, the nearest urban center. It can be reached by air through commercial and charter flights from Anchorage, or by ocean through the Alaska Marine Highway System.

The Aleutian World War II National Historic Area encompasses the historic footprint of the U.S. Army base Fort Schwatka. Located on Amaknak Island in the Aleutian Archipelago of Alaska, the fort was one of four coastal defense posts built to protect Dutch Harbor (the back door to the United States) during World War II. The fort is also the highest coastal battery ever constructed in the United States at 897 feet.

The Aleutian World War II Visitor Center is located at the Unalaska airport. The center is approximately 0.7 miles from the cruise ship docks, and 1.1 miles from the Grand Aleutian Hotel. The Ounalashka Corporation operates and owns the Visitor Center, and is affiliated with the National Park Service.

The Aleutian Islands are known for fast changing weather, so it is advisable to be prepared. Rain, fog, and high winds are typical conditions during the summer months. Winter months are characterized by wet, snowy, and cold conditions. People visiting the islands will want to bring warm clothing and good rain gear.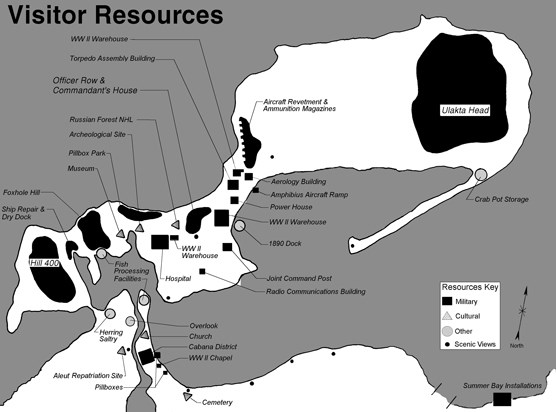 Last updated: December 6, 2020