National parks are great places to celebrate historic events and family milestones. The types of activities that take place in national parks are diverse, such as sporting events, pageants, celebrations, regattas, public spectator attractions, entertainment, ceremonies, historical reenactments, fairs, festivals, weddings, family reunions, and picnics.
Depending on the size and complexity of the planned event, the park may require you obtain a special park use permit. If issued, the permit will include terms and conditions that protect park resources while allowing you to enjoy the park without interfering with other park visitors.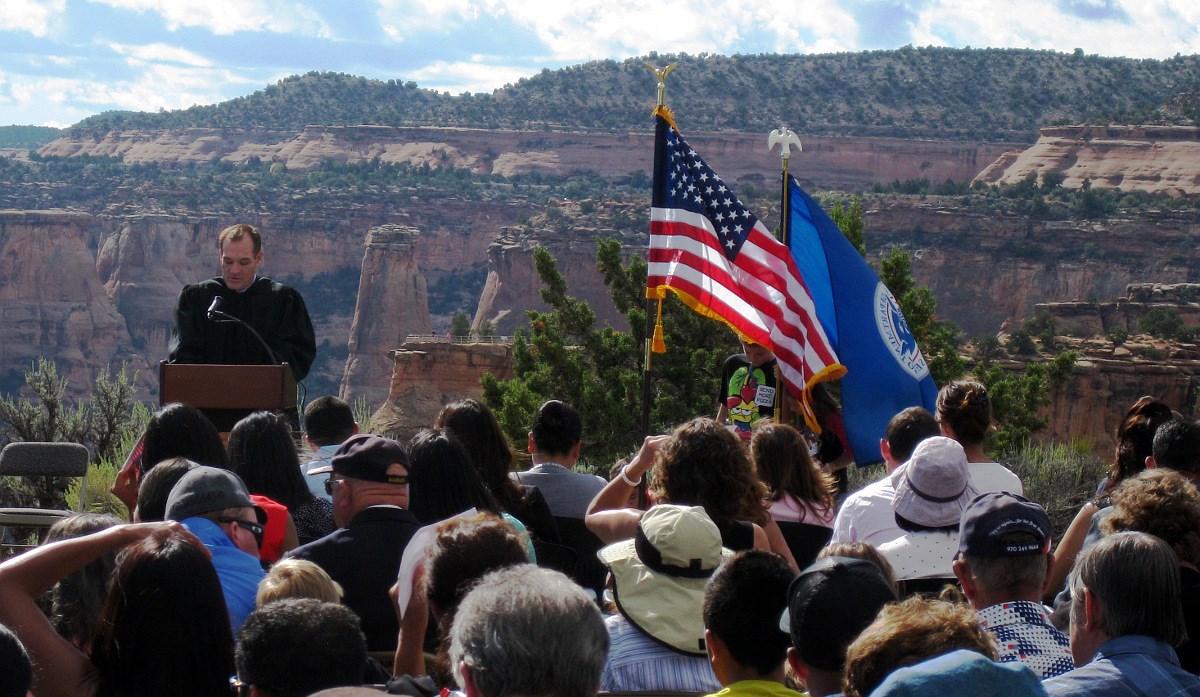 When is a permit needed?
All parks are different in size and purpose, but all protect a variety of natural and cultural resources to enjoy now and in the future. Some parks welcome thousands of visitors a year; others welcome far fewer. Because of these differences, each park sets its own permit requirements. Information about park permit requirements can be found on park specific websites; visit Find a Park to locate the park where you want to hold your event or activity.
If you are planning a special event in an area managed by the National Park Service in the District of Columbia and surrounding counties in Maryland and Virginia, separate regulations apply. Please see 36 CFR 7.96 and the National Mall and Memorial Parks website.
How do I apply for a permit?
If your proposed activity is unusual or complex, you should request a meeting with park staff prior to submitting your application. Early consultation with park staff will help you submit a complete application that they will be able to process in a timely manner.
Most parks will accept a permit up to a year before your event. Permit applications are available through each park's administrative office or website. You should submit a completed application along with the application fee to the park where you want to hold your event as far in advance of your planned date as possible.
Most parks will accept applications that are faxed, emailed, or sent by USPS mail; check the park website to be sure.
What fees will I have to pay?
Check the park website to see how payments can be made. Payment methods may include cashier's check, or money order, pay.gov and credit cards. No cash is accepted.
Cost Recovery
Your application must be accompanied by an application fee, which reimburses the park for the time spent processing your request. If your activity is complicated, there could be additional charges to cover park costs, including payment for staff time spent in monitoring your permit.
Insurance
As a condition of your permit, you may be required to present proof of liability insurance, in an amount to be set by the park.
Security Payments
As a condition of your permit, you may be required to submit either a cash payment or a surety bond in an amount set by the park to cover unpaid financial obligations and any necessary repairs or restorations.
Permit Approval
Once the park has received your complete application, staff will review and process your request. Permits may be denied if your activity would:
cause injury or damage to park resources;

be contrary to the purposes for which the park was established;

unreasonably interfere with park programs or activities;

create an unsafe or unhealthful environment for visitors or employees; or

result in significant conflict with other existing users.
For more information, see 36 CFR 2.50, 36 CFR 7.96 (for parks in the vicinity of Washington, DC), and Management Policies 1.4.7.1. If your application is denied, you will be informed as quickly as possible by telephone, email, or letter.
If your application is approved, you will be sent a draft permit to review and sign. Return the signed draft permit to the park for the superintendent's signature, along with any additional requirements, such as proof of liability insurance. A permit signed by the superintendent will be returned to you. You must have this copy with you during your permitted activity.
Last updated: June 26, 2018