Contact Information: Mailing Addresses & Phone Numbers
To send us an email, please visit the Contact Us page.
Headquarters
Charles F. "Chuck" Sams III, Director
Frank Lands, Deputy Director, Operations
Lena McDowall, Deputy Director, Management and Administration
Mike Reynolds, Deputy Director, Congressional and External Relations
Susan Farinelli, Chief of Staff
Jenny Anzelmo-Sarles, Chief of Public Affairs and Chief Spokesperson

Justin Unger, Associate Director, Business Services
Matthew Montaño, Associate Director, Information Resources (Chief Information Officer)
Jim Wilson, Assistant Director, Communications
Joy Beasley, Associate Director, Cultural Resources, Partnerships and Science
Tom Medema, Associate Director, Interpretation, Education, and Volunteers
Dana Trytten, Assistant Director, Legislative and Congressional Affairs
Dorothy FireCloud, Assistant to the Director for Native American Affairs
Ray Sauvajot, Associate Director, Natural Resource Stewardship and Science
Mike Caldwell, Associate Director, Park Planning, Facilities, and Lands
Lauren Imgrund, Associate Director, Partnerships and Civic Engagement
Jennifer Flynn, Associate Director, Visitor and Resource Protection
Rita Moss, Associate Director, Workforce and Inclusion
Address
National Park Service
1849 C Street NW
Washington, DC 20240
Phone
202-208-6843 (Have a question? Check the frequently asked questions before you call.)
Regional Offices
Contact information for NPS regional offices is listed below.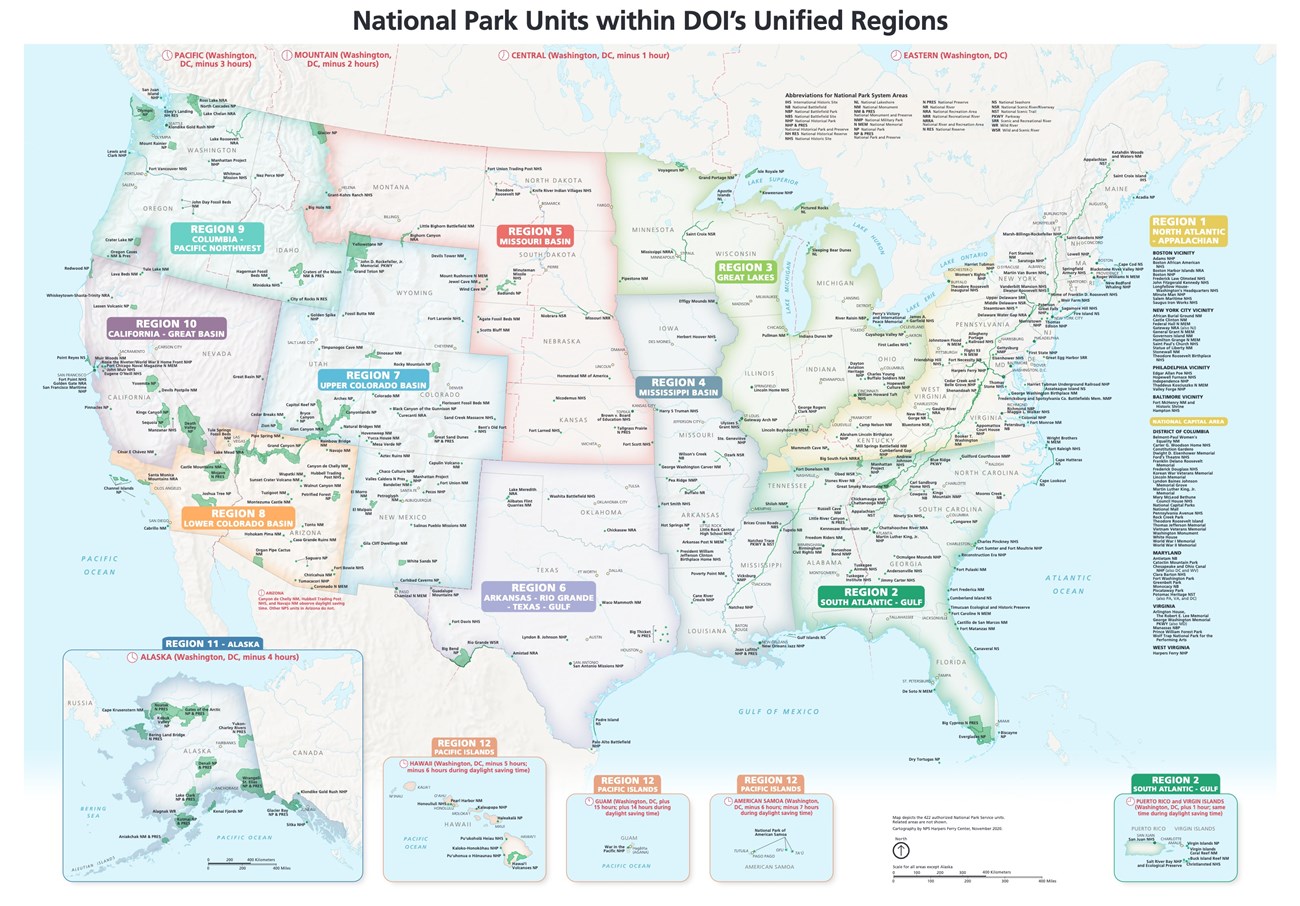 Map graphic titled "National Park Units within DOI's Unified Regions". The map graphic is intended a general visual reference showing how the National Park Service fits within the Department of the Interior's Unified Regions across the country. General information on the map graphic includes:

Region 1 North Atlantic - Appalachian and National Capital Area: includes sites in Connecticut, Delaware, District of Columbia, Kentucky, Maine, Maryland, Massachusetts, New Hampshire, New Jersey, New York, Pennsylvania, Rhode Island, Vermont, Virginia, and West Virginia.

Region 2 South Atlantic - Gulf: includes sites in Alabama, Georgia, North Carolina, Puerto Rico, South Carolina, and Tennessee.

Region 3 Great Lakes: includes sites in Illinois, Indiana, Michigan, Minnesota, Ohio, and Wisconsin.

Region 4 Mississippi Basin: includes sites in Arkansas, Iowa, Louisiana, Mississippi, and Missouri.

Region 5 Missouri Basin: includes sites in Kansas, Montana, Nebraska, North Dakota, and South Dakota.

Region 6 Arkansas - Rio Grande - Texas - Gulf: includes sites in Oklahoma and Texas.

Region 7 Upper Colorado Basin: includes sites in Colorado, New Mexico, Utah, and Wyoming.

Region 8 Lower Colorado Basin: includes sites in Arizona, southern Nevada, and southern California.

Region 9 Columbia - Pacific Northwest: includes sites in Idaho, most of Oregon, and Washington.

Region 10 California - Great Basin: includes sites in middle and north California and most of Nevada.

Region 11 Alaska: includes sites in Alaska.

Region 12 Pacific Islands: includes sites in America Samoa, Guam, and Hawaii.

View a larger version of the map showing national parks within the Department of the Interior's Unified Regions (1.1MB JPG) and learn more about the Unified Interior Regions.
Region 1: National Capital Area
Kym Hall, Area Director
National Park Service
1100 Ohio Drive, SW
Washington, DC 20242
202-619-7020
Region 1
Gay Vietzke, Regional Director
National Park Service
1234 Market Street
20th Floor
Philadelphia, PA 19107
215-597-5814
Region 2
Mark Foust, Regional Director
National Park Service
100 Alabama Street, SW
1924 Building
Atlanta, GA 30303
404-507-5600
Regions 3, 4, and 5
Bert Frost, Regional Director
National Park Service
601 Riverfront Drive
Omaha, NE 68102-4226
402-661-1736
Regions 6, 7, and 8
Kate Hammond, Regional Director
National Park Service
12795 West Alameda Parkway
Denver, CO 80225
303-969-2500
Regions 8, 9, 10, and 12
Billy Shott, Regional Director
National Park Service
333 Bush Street, Suite 500
San Francisco, CA 94104-2828
415-623-2100
Region 11
Sarah Creachbaum, Regional Director
National Park Service
240 West 5th Avenue, Suite 114
Anchorage, AK 99501
907-644-3510
Last updated: June 5, 2023