Knob Creek on the Heritage Trail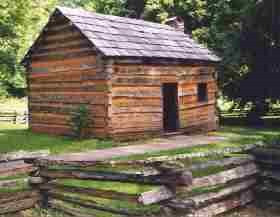 "The place on Knob Creek, mentioned by Mr. Read, I remember very well; but I was not born there. As my parents have told me, I was born on Nolin, very much nearer Hodgin's Mill than the Knob Creek place is. My earliest recollection, however, is of the Knob Creek place."
A. Lincoln
These words were written by Abraham Lincoln in a letter to the Hon. Samuel Haycraft on June 4, 1860. Knob Creek played an important role in Lincoln's life. It was here he started school, built friendships, and most likely encountered slavery in the area while living at Knob Creek as a young child.
Today you can learn more about Lincoln's life in Kentucky by following the Lincoln Heritage Trail. Knob Creek is an important feature along the trail and new wayside signs have been erected to tell the Lincoln story.
Take a virtural tour by clicking the icons on the Kentucky's Lincoln Heritage Trail Map. Find out why Knob Creek was so important in the life of Abraham Lincoln.
Last updated: April 14, 2015