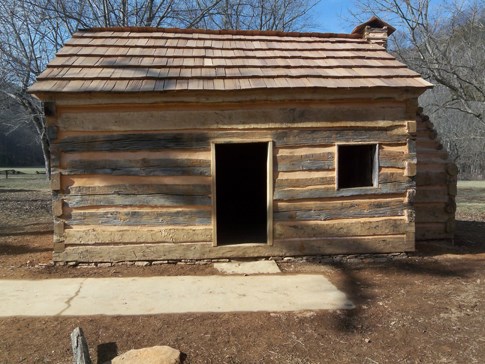 Restoration of Knob Creek Cabin Completed
On October 22, 2008, members of the Historic Preservation Training Center of Frederick, Maryland completed the restoration of the replica cabin located at the Boyhood Home Unit at Knob Creek. The Lincoln Boyhood Home at Knob Creek is located 10 miles northeast of the Birthplace Unit on U.S. Highway 31E. In 1811 the Lincoln family moved to the Knob Creek farm from the Sinking Spring farm (Birthplace Unit). They remained at the Knob Creek farm for about 5 years, departing for south central Indiana in late 1816. The Knob Creek farm was privately owned by the Howard family for over 70 years before it was transferred to the National Park Service in 2001.
Logs for the construction of this replica cabin were originally obtained from the Austin Gollaher farm and are a tangible link to the Lincoln family as Austin Gollaher was a childhood friend of Abraham Lincoln.