Visiting in Winter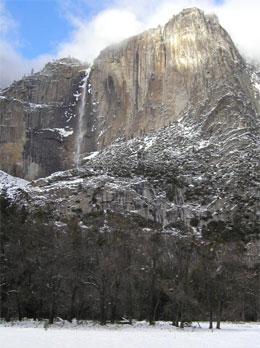 Winter
(December through March)
A season of snow & solitude
Areas to visit: While Yosemite Valley and Wawona remain accessible by car all year, the Tioga Road is closed (usually by sometime in November). Once closed for the season, vehicles are not permitted between Crane Flat and Tioga Pass, including in the Tuolumne Meadows area. The road to Glacier Point is also closed (usually sometime in November). However from mid-December though early April, the Glacier Point/Badger Pass Road is plowed to the Badger Pass Ski Area, where both downhill and cross-country skiing are popular. Tire chains are often required on park roads. When they are, you must carry and know how to use them, regardless of the type of vehicle you are driving.
Weather: Winter in Yosemite is snowy and cold, though sunny and chilly days are not uncommon.
Yosemite Valley & Wawona (4,000 ft / 1,200 m): 53°F (12°C) / 28°F (-2°C)
Rivers & Waterfalls: Water levels tend to be low, but once some snow and rain have fallen, Yosemite Falls begins flowing again (though not at springtime levels).
Hiking: Most of the park is covered in snow during winter, but some trails in Yosemite Valley are often accessible. Backpacking options are very limited.
Winter is a magical time to visit Yosemite, with opportunities for hiking, playing in the snow, and quiet solitude. The silence and beauty of Yosemite in winter is an unforgettable experience.

Duration:

6 minutes, 27 seconds

Date created:

2013-11-24
While most visitors come during the summer months, winter is a special time of year in Yosemite National Park. (2:53)

Duration:

2 minutes, 53 seconds

Date created:

2012-01-06


Tioga Road Opening & Closing

Find out when the Tioga Road opened and closed each year since 1980 Read More

Detailed Climate Data

Find detailed climate data for Yosemite Valley from the Western Regional Climate Center Read More

Current Conditions

Find out current conditions and facilities information Read More
Did You Know?
Yosemite and Huangshan are sister parks. Huangshan, which protects over 77 magnificent granite peaks 3,000 feet (1,000 m) or higher, is one of China's most famous and sacred scenic areas. Countless poems and writings dating back 2,200 years attest to its beauty. More...